Last Updated on September 21, 2023
This is your chance to score a free Christina Aguilera The Fragrance sample to try out. Don't miss out on this fantastic opportunity to experience the captivating scent of this signature perfume.
Christina Aguilera The Fragrance is a captivating and luxurious scent that exudes elegance, sophistication, and the iconic pop diva's signature style. This mesmerizing fragrance blends floral, fruity, and musky notes to create a unique and unforgettable olfactory experience. Perfect for day or night, Christina Aguilera The Fragrance is sure to become your new go-to scent.
Here is how you can score this freebie by post.
How to get a free sample of Christina Aguilera The Fragrance perfume?
NEW! On TikTok – AVAILABLE
Right now, select UK TikTok users can snag a free Christina Aguilera The Fragrance sample through a sponsored post on the platform. Here are a few tips and tricks to help you find the sponsored reel with the free sample.
Open the app and use the search bar to look up Christina Aguilera Fragrances
Follow the account and like recent posts
Keep scrolling through your feed as usual and keep extra attention to sponsored reels. Here is a screenshot of the one you need to find to be able to request the sample.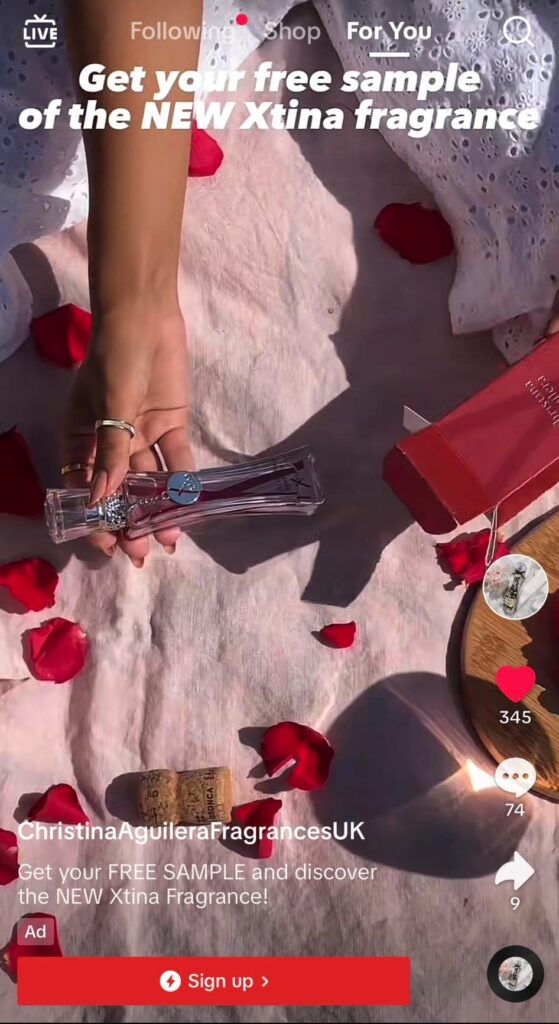 When you spot the sponsored post, simply click on the link provided to claim your free sample. Fill in the required details and submit to receive your free sample by mail.
This offer is available for select UK residents on TikTok. Available for a short period of time or while supplies last.
Good luck.
Be the first to get the latest freebies in your inbox