Last Updated on September 15, 2021
HOT. I just spotted a new SoPost form for a Carolina Herrera Lipstick sample.
Yes, it's back. Carolina Herrera is giving away free Lipstick samples. Here is how to snag one while supplies last.
How to get a free Carolina Herrera Lipstick sample in the UK?
NEW! Direct SoPost form – AVAILABLE
There is a new SoPost form with direct link for a free sample of Carolina Herrera The Lipstick Satin 314. Follow this link here to the form and fill it out. Check your inbox for a confirmation email.
Please note that confirmation emails with SoPost can take a couple hours or even days sometimes so be patient. Good luck.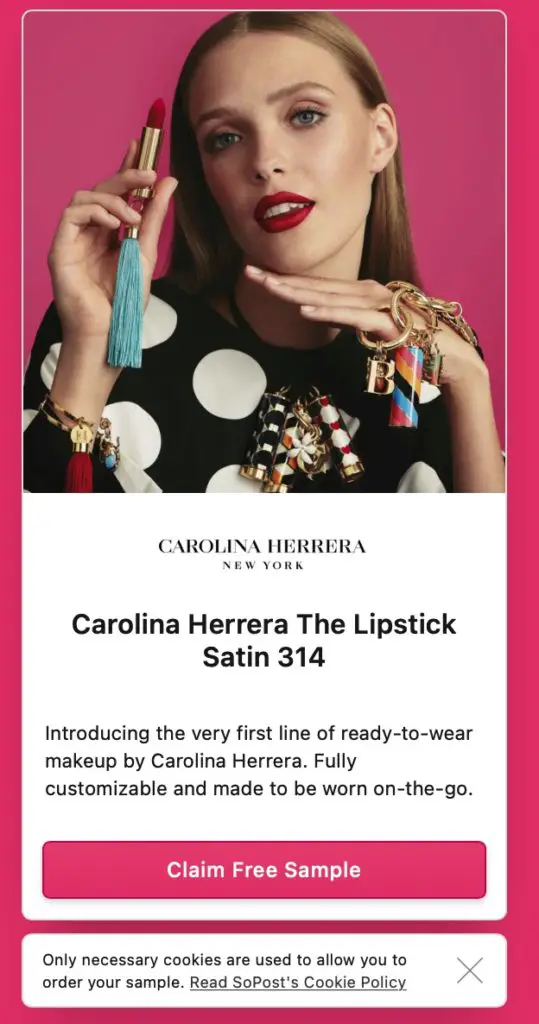 Through a sponsored pin on Pinterest – EXPIRED!
UPDATE: AVAILABLE AGAIN. I think we figured this out. You should get the Pinterest App on your mobile phone. Then open the pin here, hit 'VISIT' and proceed with filling out the form. Get the confirmation code and it should work out fine. But make sure you open the pin and go to SoPost through the Pinterest APP on your mobile phone. Otherwise, you will get a 'NOT FOUND' message.
If it's not, just stick with the original method and try to find it on Pinterest.
To get it you need to make the ad pop up for you. Here is what I did to get it in the first place :
As you can see, there are plenty of choices to choose from once you spot the pop-up on Pinterest.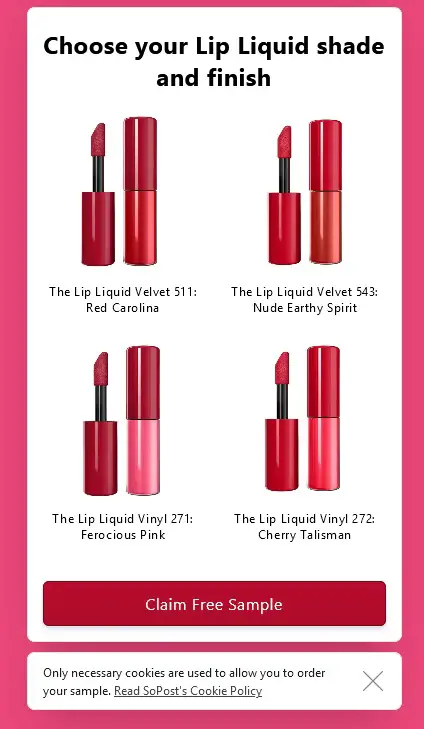 I would appreciate your feedback right away if this is working out for you or not.
Carolina Herrera Lipstick
I received mine a while ago, and I can only recommend you to try and hunt down this new opportunity. When I applied the Carolina Herrera lipstick sample, I noticed it had a rich texture with a smooth application complete with moisture for my lips.
The color payoff was fantastic and the lasting power for the lipstick on my full lips is fabulous and long-lasting! It also has a wonderful floral scent that smells like a sweet birthday cake – so lovely!
Make sure you subscribe to push notifications. This way, I will notify you of any updates regarding this offer, and others.
Be the first to get the latest freebies in your inbox