Last Updated on August 23, 2022
Craving some sweetness? Grab a free Cadbury Bar sample while supplies last.
Here is how you can get a Cadbury Bar freebie by post gratis in the UK.
How to receive a free Cadbury Bar sample by post?
NEW! Free Cadbury Wispa Gold Salted Caramel Bar – AVAILABLE
Cadbury has another giveaway going on. For a limited time, you can claim a free bar of the new Cadbury Wispa Gold Salted Caramel. To get it, you can visit the offer page here and tap on the 'GET MY BAR' to access the request form. Fill out the form to receive your freebie by post.
Good luck.
Cadbury Nuttier sample thru their direct link to form – SOLD OUT!
Cadbury is giving away free samples of their Cadbury Nuttier bar to UK residents. To claim yours, simply follow this link to the offer page. Fill it out and that's it. Expect your freebie in the mail within a few days or weeks.
Available for a short period of time or while supplies last.
Cadbury Nuttier Bar thru Facebook / Instagram
Cadbury has a new sampling offer ongoing in the UK. For a limited time, select users can claim a free sample of the Cadbury Nuttier Bar.
The samples offer is ongoing through Facebook and Instagram. There is no direct link to form as of yet, however, what you can do is follow a few steps and hopefully, the advert will pop up in your social feed. Let's get going.
I invite you to complete these actions:
Like and Follow Cadbury UK page on Facebook
Engage with the brand by liking a couple recent posts, or watching a recent video they have shared
After this, just keep scrolling through your social feed while keeping your eyes peeled for the post below.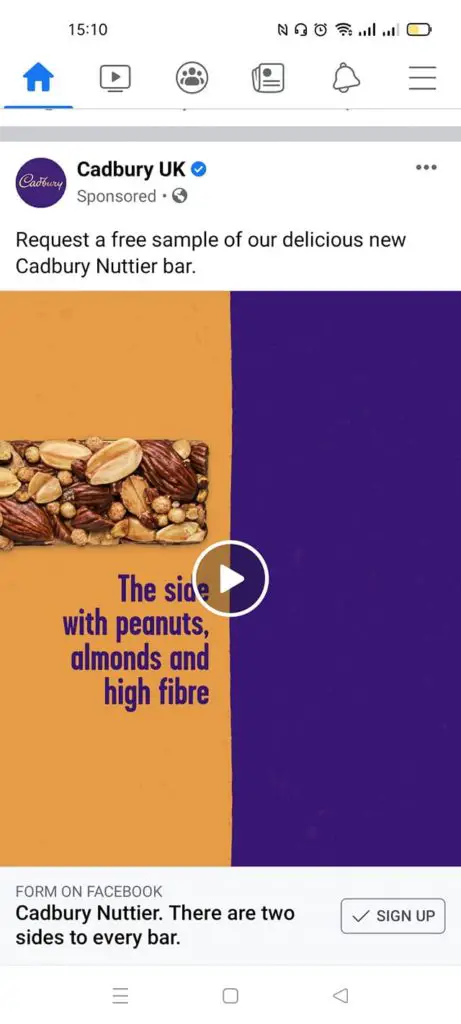 Also, stay in the loop for further update and a possible direct link to form. This one is hosted thru Sampl. Platform by the way.
This is available at the moment for residents of the United Kingdom only. I will share more when I know more.
Be the first to get the latest freebies in your inbox