Last Updated on June 5, 2023
In the skincare world, there's no such thing as too much sun protection, and Bondi Sands is here to help you with that! So without further ado, you can grab a free Bondi Face Suncream sample to try out. With warmer weather on the horizon, this couldn't come at a better time.
Bondi Sands SPF50 Fragrance Free Face Suncream is a premium product provides high SPF protection while leaving your skin feeling nourished and fresh. It's ideal for everyday use, being lightweight and offering a sheer, matte finish. It leaves your skin moisturised, and most importantly, shielded from harmful UV rays. The face suncream is enriched with skin-loving ingredients that don't just protect, but also nourish the skin. And the best part? It's fragrance-free, making it suitable for all skin types, even sensitive ones. So read not to find out how to get your hands on this freebie while supplies last.
How to order a free sample of Bondi SPF50 Face Suncream?
This golden opportunity is available through sponsored ads on Facebook and Instagram. To increase your chances of spotting this deal, here's what you can do:
Start by following Bondi Sands on both Facebook and Instagram. Social media algorithms tend to prioritise content from pages that users actively follow. So, staying connected with Bondi Sands will increase your chances of spotting the free sample post.
Engagement is key! So make sure to like their recent posts, leave comments, etc…
Use the search bar to look up the Bondi SPF50 Face Sunscream lotion and you can also look it up on the internet
After that simply stay alert and check your social media feed regularly for the sponsored post from Bondi Sands offering the free sample. As soon as you spot it, follow the instructions on the post to claim your free SPF50 Fragrance Free Face Suncream sample. Here is a screenshot of what it looks like.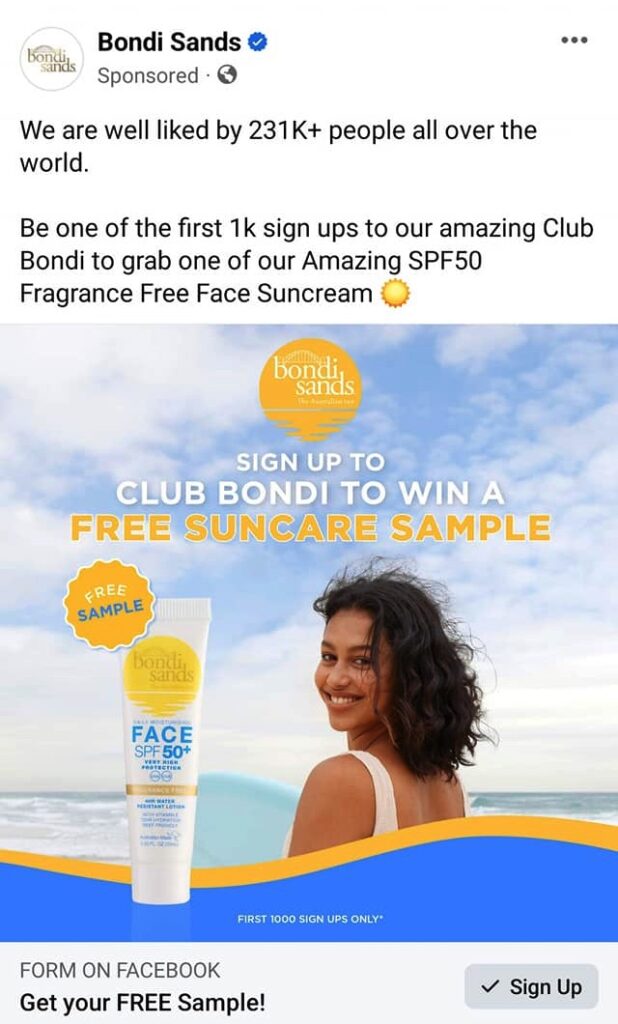 Don't miss this fantastic opportunity to experience the superior protection and skin-nourishing properties of Bondi Sands SPF50 Fragrance Free Face Suncream. Remember, this offer is on a 'while supplies last' basis, so keep an eye out and act quickly once you spot the ad.
Here's to healthy, protected skin with Bondi Sands!
Be the first to get the latest freebies in your inbox