Last Updated on May 22, 2023
Have you heard of the latest AVON Anew Renewal Power Serum? Here you can try it gratis while the offer lasts. Be quick to snag a free Avon Anew Serum sample by post in the UK.
The Avon Anew Renewal Power serum is a powerful antioxidant serum with a unique texture that is non-greasy. It's a skin-boosting wonder serum powered by Protinol Technology, which gives skin a better-quality collagen boost. It also contains Niacinamide, which protects collagen and helps renew skin. Thus giving you smoother young-looking skin.
Here is how you can score a free sample of the new Avon Renewal Protinol Power serum.
How to get a free Avon Anew Renewal Protinol Power serum sample by post?
This freebie offer is currently ongoing through a sponsored advert on Facebook and Instagram. This means that there is no direct link to the form. However, you know that there are a bunch of actions you can complete to hopefully get the post to show up on your social feed. Thus, be able to access the form and claim the Avon Renewal Power serum sample.
Here are the actions I suggest you complete to increase your odds of getting this popup while scrolling your Facebook or Instagram social feed :
Like and Follow Avon UK page on Facebook and Instagram account but also Grazia UK pages on Facebook and Instagram
Like a couple of recent posts they recently shared, leave a comment on a post, or watch a video on their page
You can also search the Avon Anew Renewal Serum and view it on their website
After this, just keep your eyes peeled while scrolling through your social feed. Hopefully, you will be able to see the post as shown in the snapshot below.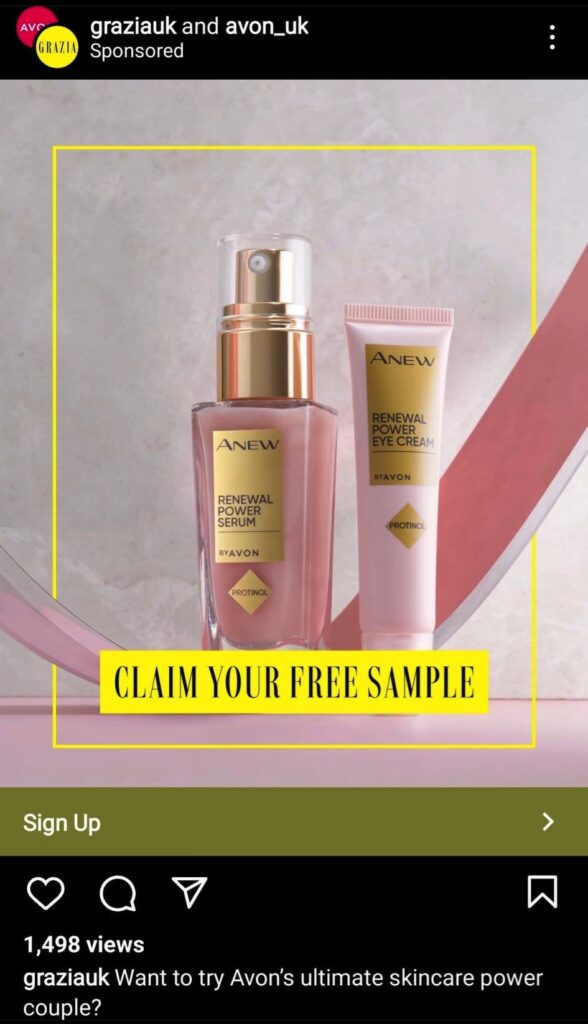 UPDATE: This is showing up to UK residents who are 18 and older, who are interested in skincare.
I'll update this article with further details or a possible direct link if available.
Currently available and showing up to select UK residents on Facebook. Good luck.
For more freebies with SoPost, Check out this list.
Be the first to get the latest freebies in your inbox