Last Updated on February 21, 2023
How would you like to try the Aerin Lauder Mediterranean Honeysuckle perfume? Here you can find all the available ways and sampling offers to score a free Aerin Mediterranean Honeysuckle sample in the UK.
How to get a free Aerin Mediterranean Honeysuckle sample?
With Vogue Insiders Beauty Community
Vogue Insiders UK has a new Aerin Lauder perfume freebie to offer. The platform has sent out emails to select registered members. Those who get an email can claim a free sample of Estee Lauder Mediterranean Honeysuckle fragrance.
To claim a free Aerin fragrance sample, registered Vogue Insiders members should check their inbox to see if they got selected. The email looks like the snapshot below.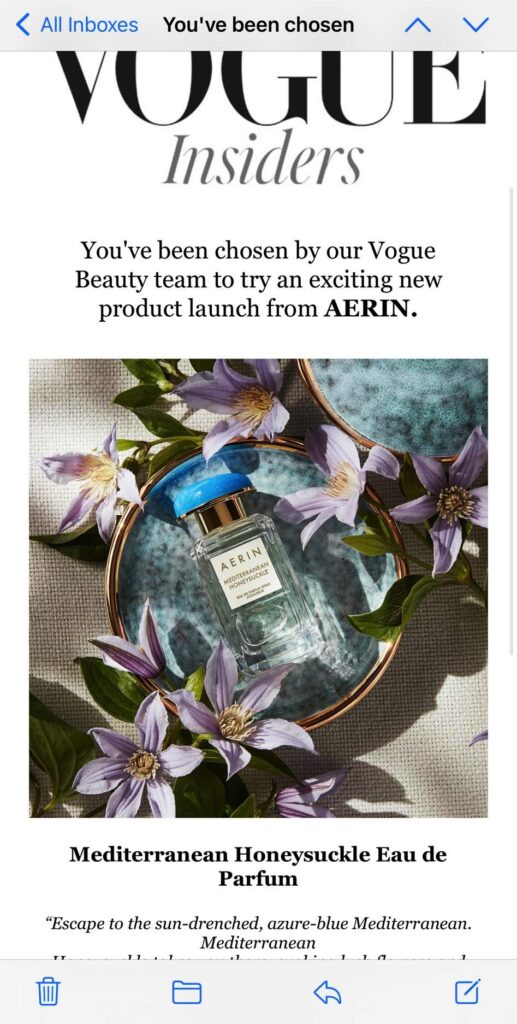 A member but didn't get an email? Sit tight and wait for an update from them. There's always something ongoing with Vogue Insiders.
Not a member yet? I highly recommend you sign up and build your beauty profile to start matching with luxurious samples. It's super easy and free. You can do it thru the link at insiders.vogue.co.uk.
Or you can check out this section to learn more about the Vogue Insiders Beauty Community, current and past offers.
Available for UK residents only.
So to sum it up, if you do not get an email, you can't claim. But what you can do is hop on for future offers and maybe this one as well. Who knows!
About Aerin Mediterranean Honeysuckle Eau de Parfum
Aerin Mediterranean Honeysuckle Eau de Parfum is a floral fragrance that evokes the Mediterranean. The combination of Sweet Honeysuckle and sparkling Bergamot is reminiscent of an Italian sunny garden.
The Aerin perfume has soft notes of sun-warmed citrusy and mandarin oil, which add a dash of freshness to the floral heart of Lily of the Valley, lush Gardenia, and Jasmine Sambac Absolute.
Estee Lauder first released this perfume by Aerin Lauder in 2015. Making it an iconic fragrance as enchanting and alluring as the person behind it.
Be the first to get the latest freebies in your inbox