Last Updated on July 16, 2021
Looking for the Starbucks BOGO offer? It's back on. Be quick as a flash to seize the Starbucks Buy One Get One free Canada promotion.
For a limited time, you can get a free drink with the purchase of :
Any one (1) Starbucks Handcrafted Beverage (Medium or large size)
The Starbucks Bogo Canada promotion goes on and off. But I will be updating this article with a link and how to guide whenever available.
Current Starbucks Buy One Get One Free offer for Canada
To get your exclusive Starbucks Canada BOGO Promo Code, I invite you to follow this link to the offer page. Simply pop up your valid info in the corresponding fields and send it away to receive your code instantly.
The next step is to go over to your local Starbucks. Purchase any one (medium or large size) handcrafted drink. Show your code and get one free.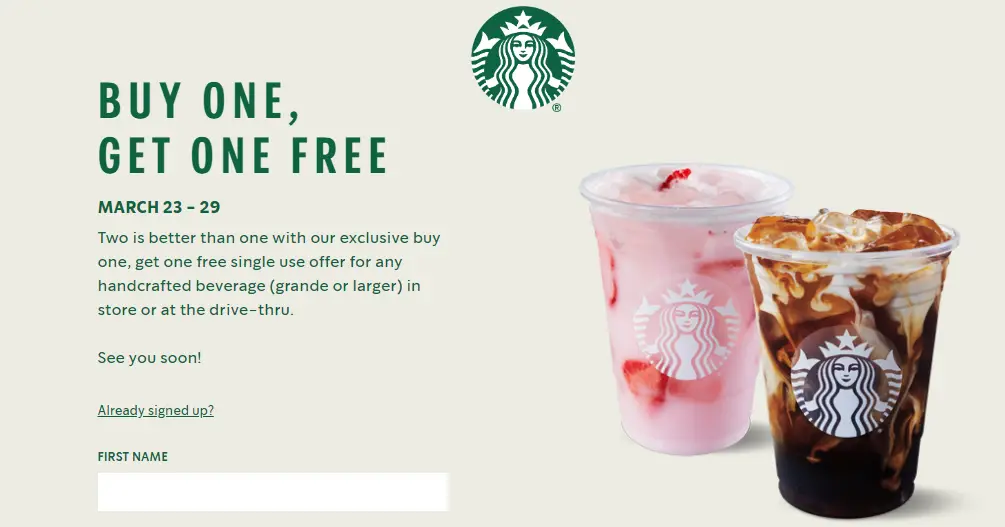 Valid from March 23 to 29, 2021.
Offer valid at participating Starbucks Canada locations only.
There is a limit of one exclusive promo code per customer. So no need to apply more than once per promotion period.
This promotion excludes: hot brewed coffee & tea, Starbucks Reserve Beverages, and Ready-to-Drink beverages.
Please note that you can't combine this Starbucks deal with any other coupons or ongoing discounts.
Frequently Asked Questions
Is Starbucks buy 1 get 1 free today?
No. The last Starbucks buy 1 get 1 free to date was available from March 23 to 29, 2021. Stay tuned for the next one!
How do you get free buy one get one at Starbucks?
When the Starbucks BOGO promotion is ongoing. You go to the promotion page to claim a promo code with your phone number and email address. Then, you redeem it in-store at participating Starbucks locations in Canada.
Is it 2 for 1 at Starbucks today?
No, the last 2 for 1 at Starbucks Canada ended on March 29, 2021.
How do I claim my Starbucks Bogo?
Go to the promotion page and claim a promo code to redeem in-store at participating locations.
Previous updates on Starbucks BOGO Canada offer
UPDATE on the 8th of December 2020: The Starbucks BOGO Offer has been renewed and now valid from December 8 to 14, 2020.
Until the 23rd of Nov. 2020, you can share the holiday cheer with the Starbucks buy one get one free deal at your local Starbucks Canada.
Just follow the link below to the offer page to request your exclusive promo code, then just go over to your local Starbucks, buy a Handcrafted Beverage, and snag the second one for free!
CLICK HERE TO GET YOUR EXCLUSIVE STARBUCKS PROMO CODE
Be the first to get the latest freebies in your inbox