Last Updated on November 21, 2022
Looking for the current Subway Sub of the Day in Canada? If you like to have lunch at Subway, and particularly like to order the 6″ sub, this new promotion is a must for you.
Subway Canada has launched The Subs Days Deals. Until the promotion ends, each day you can get a different 6″ sub for less than its regular price. This means, you get to enjoy a 6″ sub, and pay less. Thus, get a full belly, and wallet. Thanks, Subway CA!
Current Subway Sub of The Day
What is the sub of the day at Subway Canada?
Wondering what Sub of the Day is it today in Subway Canada? Find the answer to your question below :
Monday – Oven Roasted Chicken Sub
Tuesday – Savoury Italian BMT Sub
Wednesday – Sweet Onion Chicken Teriyaki Sub
Thursday – Turkey Breast Sub
Friday – Tuna Sandwich Sub
Saturday – Turkey Breast and Black Forest Ham Sub
Sunday – Subway Club Sub
Find a Subway Canada store near you here. or place an order online.
This promotion is available at participating Subway Canada restaurants. I recommend you check availability beforehand.
Check out this page with for more Subway Coupons & deals to save up money on your favorite subs.
You cannot get this with any additional coupons or ongoing offers. Additional charge for Extras will also apply.
How much is the sub of the day in Canada?
The price of daily Subs of the Day at Subway Canada restaurants somewhat ranges from $3.99 to $5.00 for a 6-inch sub. Whereas the Footlong Sub ranges between $6.00 and $8.00, depending on your province or territory of residence.
Please note that prices might slightly differ from province/territory to another.
This is valid for Canadians only. For a limited time or while promotion is ongoing.
For more great deals and freebies in Canada, you can check the recent posts here.
Potato Bun Sidekicks – 2 for $5
Get any 2 Sidekick sandwiches for only $5 plus tax. Including the new Potato Bun Sidekicks made with Canadian Potatoes.
Limited time offer at participating Subway Canada locations.
Under $5 Subway Menu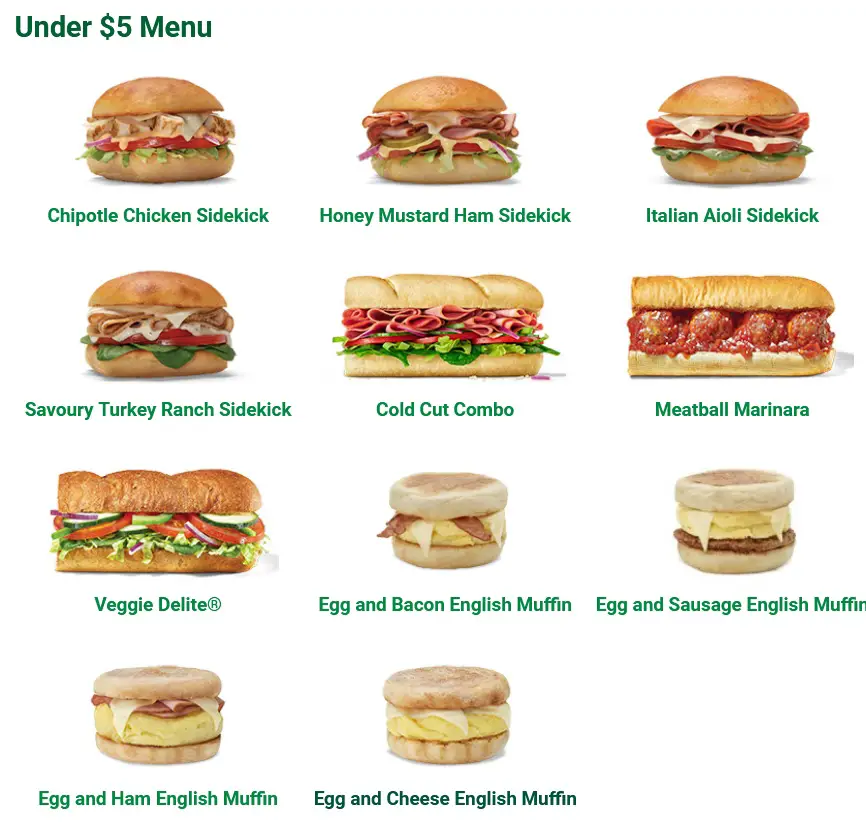 Life is too short for impossible diets, so jump on board with the Under $5 Subway Menu!
Now, you can enjoy a sidekick or an English Muffin sandwich that is as healthy as it is delicious without breaking the budget. From protein-packed filling sandwiches to fresh salads, the Under $5 Menu options at Subway Canada are low in calories and high in flavor. Including
Chipotle Chicken Sidekick
Honey Mustard Ham Sidekick
Italian Aioli Sidekick
Savoury Turkey Ranch Sidekick
Cold Cut Combo
Meatball Marinara
Veggie Delite®
Bacon and Egg English Muffin
Egg and Sausage English Muffin
Ham and Egg English Muffin
Egg and Cheese English Muffin
Be the first to get the latest freebies in your inbox