Last Updated on August 23, 2023
Attention cat owners! If you've been searching for a new, nutritious treat for your feline friend, there's some great news on the horizon. Sample Source is dishing out an exclusive opportunity for selected users to indulge their pets in a high-quality dining experience with a free Purina Pro Plan Cat Food sample.
The Purina Pro Plan Wet Cat Food is crafted with the utmost care, each meal is a gourmet experience designed to cater to the unique dietary needs of cats while tickling their taste buds. So pamper your fluff ball with this great offer. Here is how.
How to claim a free sample of Purina Pro Plan Cat Food?
Sample Source has always been a bridge between brands and consumers, providing the latter with a chance to experience premium products firsthand. In line with this mission, they've sent out emails to select users who match this sampling opportunity.
To get your hands on the Purina Pro Plan Wet Cat Food sample:
Check Your Email: If you're a registered member of Sample Source, peek into your inbox. Look for an email detailing the sampling opportunity. Or you can check your dashboard directly by logging in
Claim Your Sample: Follow the instructions in the email to secure your sample.
Feedback & Enjoy: Once you've introduced your cat to this gourmet treat, remember to provide feedback. Brands and platforms like Sample Source thrive on user insights to continue their mission of offering top-notch products.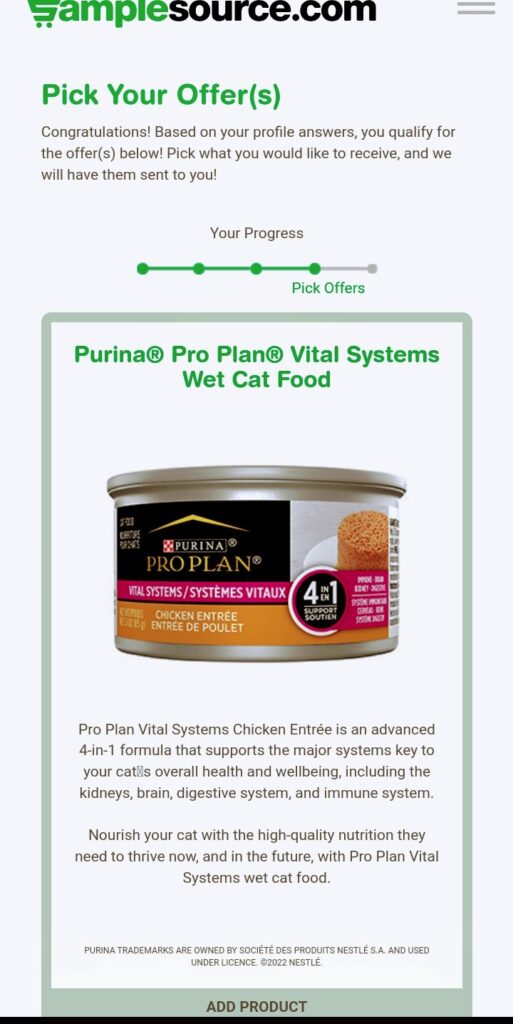 There's nothing like the joy of discovering a product that aligns perfectly with your pet's needs, and the Purina Pro Plan Wet Cat Food promises just that. If you're among the lucky ones to have received the exclusive email from Sample Source, don't hesitate! Your feline companion is in for a treat that's both delicious and nutritious.
For those who haven't received the invite, stay tuned to Sample Source – they're always brimming with fresh, exciting offers. Also, they just announced that the Sample Source Fall 2023 Box will be available soon. So keep an eye out for them.
Be the first to get the latest freebies in your inbox