Last Updated on February 16, 2021
Cheer PC Optimum Points collectors! You can find below the latest PC Optimum loadable offers, coupons and promo codes you can benefit from to get rebates and save up money on your groceries in 2021. Earning PC Bonus Points in Canada has never been easier.
I will be updating this article every week to include the newest PC Optimum loadable offers and coupons you can use immediately to get the best value on your loonies.
PC Optimum Coupons & Promo Codes
NEW! Shoppers Drug Mart coupon to get 20x the PC Optimum Points when you spend $60 or more on almost anything in Shoppers Drug Mart stores. Offer valid on February 16 to February 17, 2021, at 11:59 pm PST.
You need the coupon code to benefit from this PC offer. You can save the picture below on your phone and use it.
You can additionally sign up for the Shoppers Drug Mart Mobile Text Exclusive Offers to receive promo codes and discounts every tuesday.

PC Optimum loadable offers in Canada
Check this link right here to find out the latest PC loadable offers and load them to get bonus points.
RCSS PC Loadable offers
The spent minimum value is calculated before taxes and after all coupons and discounts are deducted. Must be in a single transaction at any participating store location.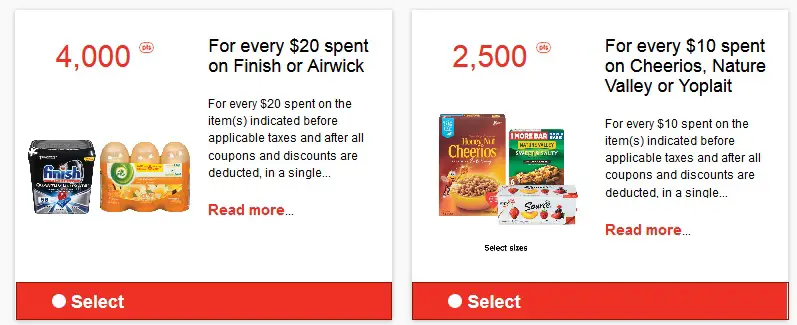 Earn 4,000 PC Points for every $20.00 spent on Finish or Airwick
Get 2,500 PC Bonus Points for every $10.00 spent on Cheerios, Nature Valley, or Yoplait
Minimum redemption 10,000 points.
Loblaws Inc. & Shoppers Drug Mart Inc. PC Loadable offers
The offers below are only valid at participating stores location operating under the Loblaws Inc. and Shoppers Drug Mart Inc. banners. They expire after one use and cannot be used in subsequent transactions. Points apply to items sold as individual units and are not awarded per unit when the unit is part of a case pack or variety pack.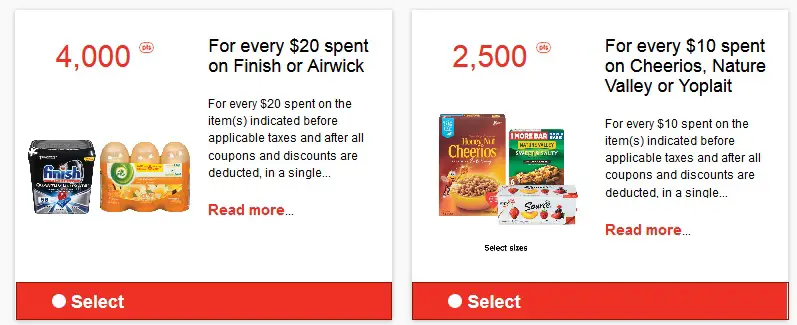 Get 1,000 PC Points when you buy 3 Kelloggs Nutritional Bars.
Earn 1,000 Points when you purchase any one participating Tide or Gain Pods (48, 73, or 96ct)
Get 1,000 PC Points when you buy any one (1) Charmin Soft or Strong 12 Equal to 48
Minimum redemption 10,000 points.
Be the first to get the latest freebies in your inbox