Last Updated on June 19, 2020
Staying indoors doesn't mean skipping shaving. That's what Gillette is saying at least! Today, they have unveiled a sampling campaign in Canada. You can order a FREE Gillette SkinGuard Razor to receive by mail to your Canadian home address. And of course, no fees or annoying surveys. A freebie just like we love them!
For a limited time only, Gillette Canada is offering FREE Gillette SkinGuard Razors on a simple request. You want one? Of course you do! In order to claim your FREE Gillette SkinGuard Razor to receive by post to your doorsteps, we suggest you follow the step-by-step guide we have made for you.
How to get a FREE Gillette SkinGuard Razor Sample?
First of all, this freebie is being offered through sponsored Facebook and Instagram ads in Canada. However, this time, we have tried to make it even easier for you to claim it. YES! We have a direct link you can use. Just click on the "Get this free sample" to be redirected to the ad preview. Choose where you want to see it. (on your Mobile or Desktop, Facebook or Instagram, and the placement.)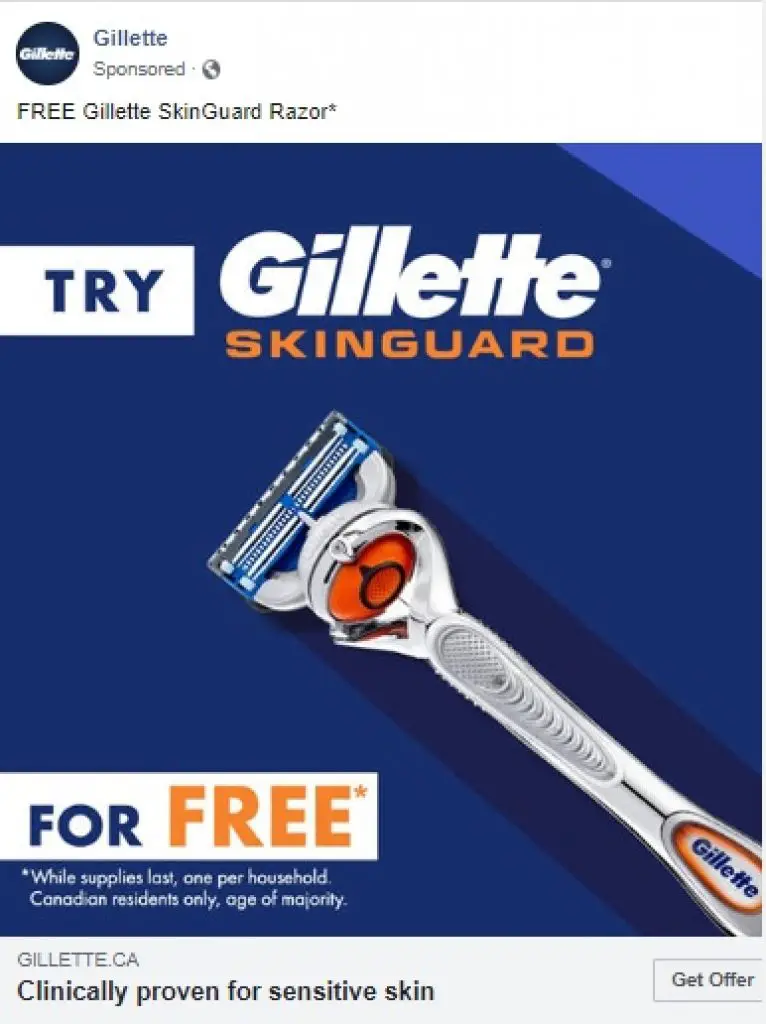 Once you click on preview, you should refresh your social media of choice and you shall see it. It has a "Get Offer" button you can click on to get the online request form.
The sampling campaign is open to all residents of Canada, all provinces and territories included.
We hope you like this freebie. Don't hesitate to share it with your friends and family to help us spread the word about it, and help your pals get this freebie as well. It's a win-win situation we got here ;)
Make sure you apply for it ASAP to make sure you snatch it before the supplies run out.
You can also subscribe to our newsletter to make sure you receive the best freebies and free samples in Canada every day by mail.
Happy freebies hunting!
Be the first to get the latest freebies in your inbox