Last Updated on April 7, 2023
Score a free NARS Bronzing Powder sample or a Blush sample with TopBox Canada.
For a limited time, you can get your free sample of choice between these 2 NARS Cosmetics products :
Free NARS Laguna Bronzing Powder sample
NARS Blush sample
Be as quick as a flash to snag this new HOT makeup freebie with TopBox Circle Canada. Here's how below.
How to get free samples of NARS Bronzing Powder or Blush with TopBox Circle? – AVAILABLE AGAIN!
AVAILABLE AGAIN! July 10th, 2021. But it looks like the bronzing powder is out of stock. The blush is still available.
To get your free sample of choice of a NARS Cosmetics Bronzing Powder or Blush, I invite you to go to my Instagram bio this link here. And click on the link in bio to go to topbox form. Answer the questions to see the form. Fill in the form and submit it away.
In case you get an OUT OF STOCK message, just be patient. It's going to come around pretty fast. Make sure you subscribe to push notifications. This way I can tip off the second it's back.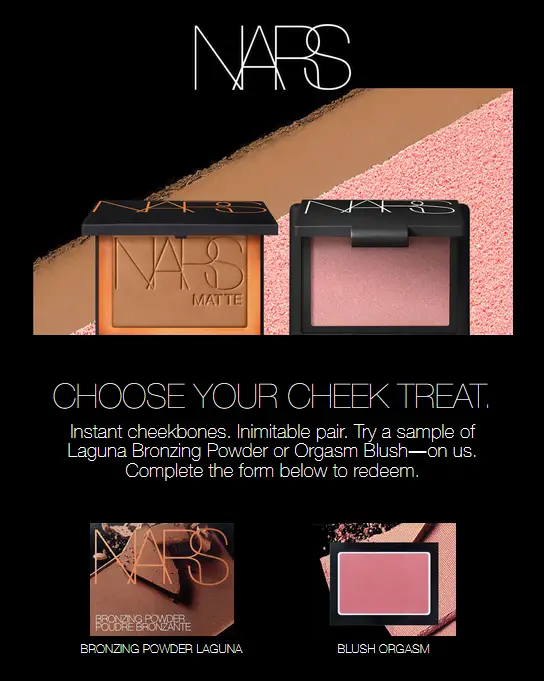 IMPORTANT: is the link working for you? Did you manage to get a sample? Let me know as soon as possible in the comments below to see if I need to look for another link.
Valid for a very short period of time or while supplies last.
For residents of Canada only.
Be the first to get the latest freebies in your inbox