Last Updated on November 17, 2023
Mobil 1 frequently delights Canadian drivers with interesting promotions. These offers provide an excellent opportunity to experience the superior performance of Mobil products. Besides, they come with added perks like rebates, free gifts, and more…
Perfect for car enthusiasts and everyday motorists alike, Mobil 1 promotions in Canada are designed to enhance both your vehicle's health, your driving experience AND save you money.
Keep an eye out for this article to find out about the latest Mobil 1 Rebates and Deals. This way, you will get the most out of your automotive investments while enjoying some exciting extras.
Mobil 1 Rebate – Free Socks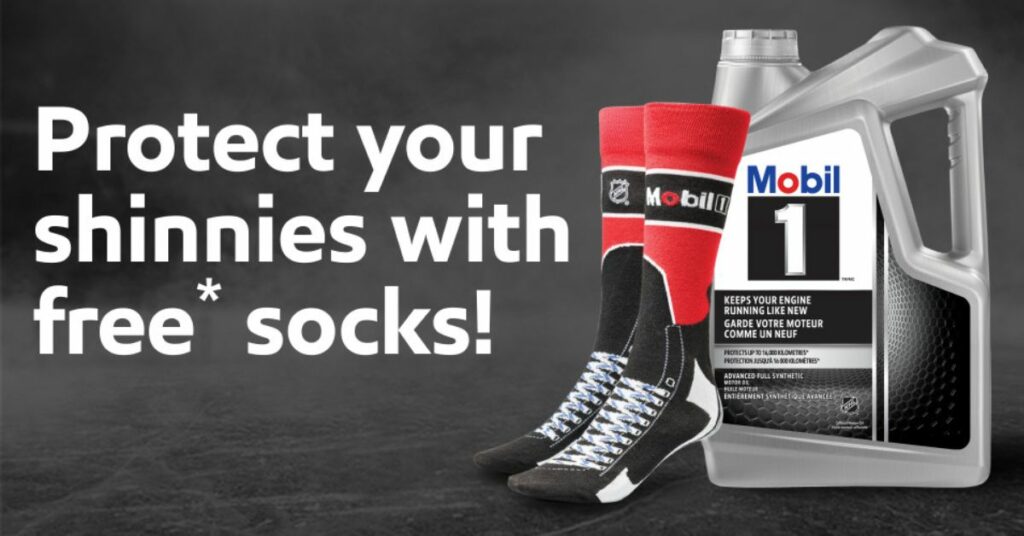 Mobil 1's latest promotion in Canada is perfect for anyone who loves their car as much as they love a good deal.
This November, Mobil 1 is offering a unique rebate: Buy 4.73 liters of Mobil 1 Synthetic Motor Oil and receive a pair of Free Socks!
How to get your free Socks from Mobil 1?
It's quite a simple process, simply read and follow the instructions explained below:
Purchase: Buy Mobil 1 synthetic oil in the 4.73-liter container from Canadian Tire, Walmart, Partsource, or online at these same retailers.
Upload receipt: Use the link below to go to Mobilpromotion.ca and upload your purchase receipt as proof.
Receive your free socks: Once your submission is processed, you will receive a pair of free socks!
Make sure to complete your purchase between November 1-30, 2023, and upload your receipt by November 30, 2023.
Don't miss out on this opportunity to enhance your vehicle's performance with Mobil 1 oil and get a cozy pair of socks as a bonus.
Remember, this offer ends on November 30, 2023, or while supplies last. So, what are you waiting for? Rev up your engine with Mobil 1 Oil and score free socks!
Be the first to get the latest freebies in your inbox