Last Updated on December 14, 2020
This Christmas, McDonalds has a new freebie offer for Canadian residents. The Deal or Deal event to get free food & snacks at McDonald's locations in Canada.
Valid December 14-24, 2020
Free food & snacks with McDonalds Canada 2020 Deal or Deal Event
Score free food and snacks at McDonalds Canada starting on the 14th of December, and until Christmas Eve.
McDonald's launched the Deal or Deal event for customers using their mobile app only. If you have the app, you can benefit from 11 days of free McDonalds meals, sides, drinks, and sweets.
If you don't have the McD's mobile app, we suggest you download it today to join in the fun.
Click here to download the My McD's App
Open your McD's mobile app daily during the event dates to vote for your favorite freebie deal (starting from 4 AM. to 8 PM ET each day).
The winning deal will be available to redeem the following day for free with any order ($1 minimum purchase requirement) placed via the McDo Mobile App. (between 4 AM and 11:59 P.M. local time the next day)
They didn't disclose the full list of deals. They will be shared on a daily basis.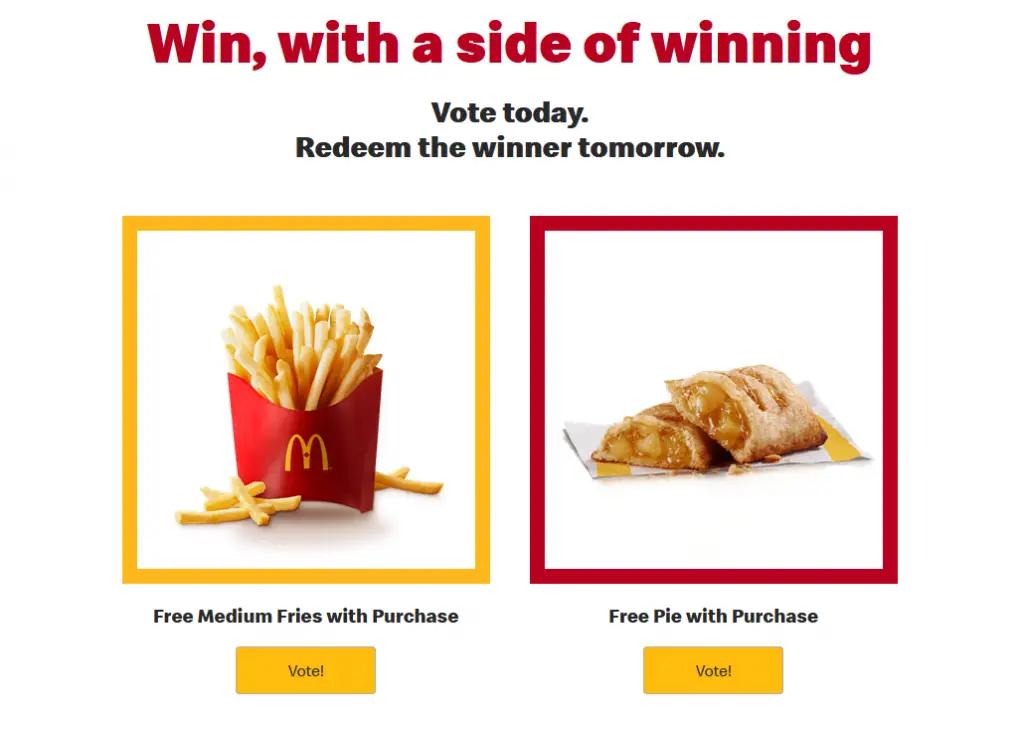 Today (14th Dec. 2020) they opened the event with your choice of one of these freebies :
Free Medium Fries with Purchase
Free Pie with Purchase
The winner of these two deals will be available to claim with any order placed via the McD's mobile app at participating McDonald's locations across Canada.
Limit 1 vote per person per day.
Valid for Canadian residents only.
US resident? Score free food & snacks with the 11 Days of free food & snacks @McDonalds USA
Be the first to get the latest freebies in your inbox