Last Updated on June 6, 2022
Sign up for a free MAC Mascara sample to receive by mail in Canada.
MAC Cosmetics is giving away free samples of their new Macstack Mascara for residents of Canada. Here is how you can get one in the mail without paying a cent.
How to get a free sample of MAC Cosmetics Mascara in the mail?
The brand is giving away the sample through a sponsored post on Facebook and Instagram. It's currently showing up to select Canadian residents who match the targeting criteria set up by the brand.
To receive your sample in the mail and try out the new MACSTACK Mascara by M.A.C Cosmetics, simply follow the steps below.
Like and Follow MAC Cosmetics Canada page on Facebook and Instagram
Interact with the brand by liking a couple of recent posts, watching a video they shared or leaving a comment
Lookup the new Macstack Mascara on the internet or MAC Canada website
UPDATE: It looks like the brand is targeting female residents of Canada, who are aged 18 to 34. So check your gender, and age on Facebook. if you haven't set it yet, do it. If your age on Facebook is above 34, I suggest you change it to be like 30 because it's going to be useful on the long run. That's the average age brands usually target for samples on Facebook and Instagram.
After that, keep your eyes peeled while scrolling through your social media feed. Below is a screenshot of what the advert with the request form for this freebie looks like.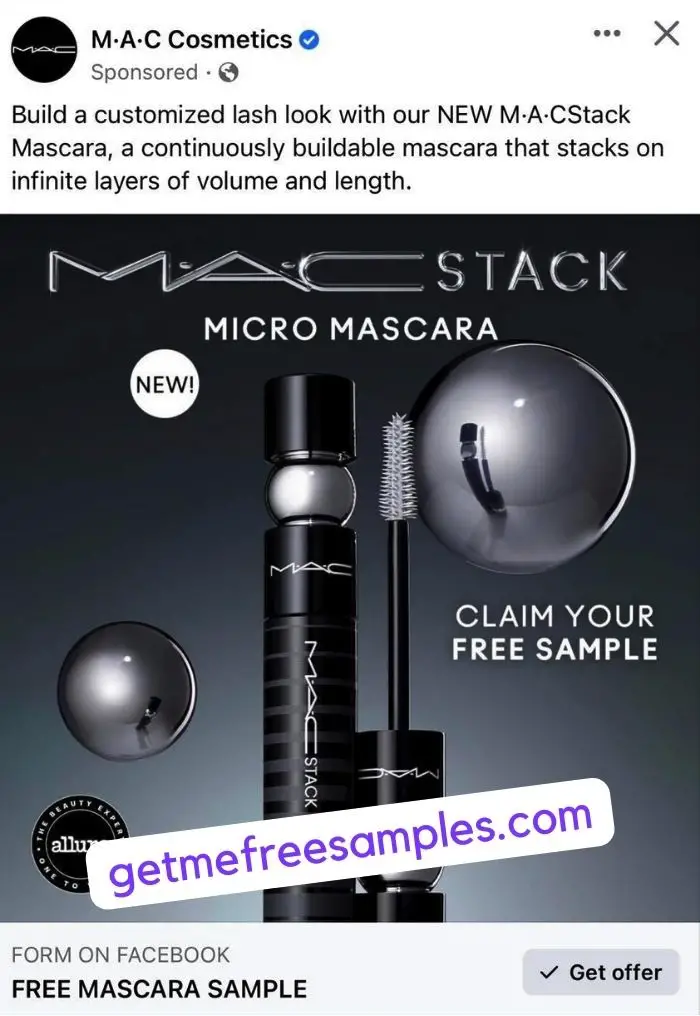 Once you see the post, hit the 'GET OFFER' button to access the request form and score your MAC Stack Mascara sample in the mail.
This is available for a short period of time only or while supplies last through Facebook and Instagram sponsored posts. Keep an eye out on this article as well for updates and a possible direct link to the form.
Canada only!
Be the first to get the latest freebies in your inbox