Last Updated on November 23, 2021
Grab a possible free L'Oreal DIA Light Hair Color sample while the offer lasts.
L'Oréal Professionnel CA is giving away free samples of their new DIA Light Hair Color to select residents of Canada.
DIA Light is a gentle hair color with luminous demi-permanent properties. It's perfect for people who have color-treated or especially sensitive hair. Once mixed, its creamy consistency allows for placement control. Once applied, the color gently penetrates the hair fibers. While the polymers provide a new surface for the hair, the results are more shiny and beautiful. In fact, the color will last longer with DIA.
You can try it for free thanks to this new sample. Here is how you can score this freebie.
How to receive a free sample of the new L'Oreal DIA Light Hair Gloss ?
The brand is offering the samples through a sponsored ad showing up to select users on Facebook and Instagram. Thus, there is no direct link to the form. However, you can do a bunch of simple actions to increase your odds of getting the post. Therefore be able to apply for a LOreal DIA Light Gloss sample.
Let's begin. Below are the actions I recommend you to complete:
Once through with it, I invite you to keep your eyes peeled while scrolling through your social feed. Here is a snapshot of the post you should be on the lookout for.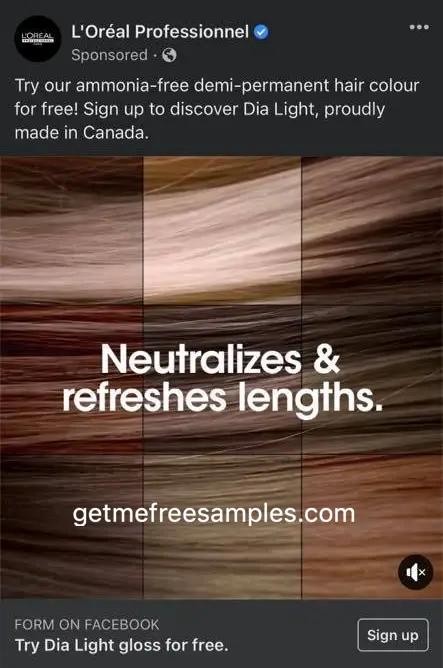 This is currently showing up to select Facebook users who are living in Canada. I will make sure to update you with any further instructions or updates.
Check this page for more free samples in Canada.
Be the first to get the latest freebies in your inbox