Last Updated on October 30, 2023
Skincare Freebie Alert! Don't miss out on a free Jouviance Cream sample to discover this amazing anti-aging cream.
Jouviance is offering free samples of their 3-in-1 Anti Aging Cream to select residents of Canada.
With a powerhouse combination of the synergy of Tighteny, a retinol-like ingredient that works synergistically to help tone and firm the skin. Moreover, it reduces and diminishes pores, rejuvenates and smooths the skin's texture while restoring elasticity.
The Jouviance Restructiv 3D Action Boost anti aging cream is specially designed to help fight the effects of aging and slow down the process from the inside out. Try it out for yourself with a sample while supplies last.
Here is how to get this possible freebie in the mail without any fees.
How to get a free sample of Jouviance Anti-aging Cream?
From Facebook / Instagram – AVAILABLE
Update: I found the Facebook Post for this freebie so you can claim it directly using the button below.
If you are interested in trying a free sample of Jouviance 3-in-1 Anti Age Cream, read and follow the instructions below.
The brand is giving away this specific sample through a sponsored post on Facebook and Instagram. There is no direct link to the form because it is on the Facebook post. So the solution is to make the ad pop up in your social feed.
For that, I suggest:
Follow Jouviance page on Facebook and Instagram
Interact with the page (Like recent posts, Comment or watch a recent video/story)
Search the internet for Jouviance 3 in 1 Anti-aging Cream and view it on Jouviance's Canada website
After that, keep your eyes open while scrolling through your social feed. Below is a snapshot of what the sponsored post looks like.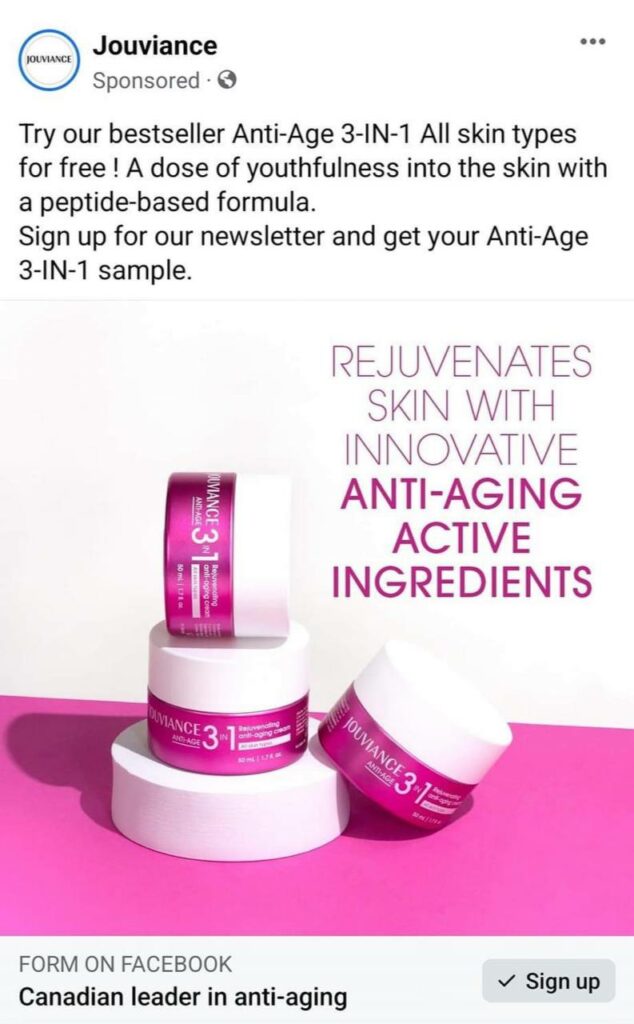 Once you see it, you can hit the 'SIGN UP' button to access the sample request form.
Please note that not everyone will be getting this since it depends on the targeting criteria set by the brand.
Currently available for select residents of Canada on Facebook and Instagram as a sponsored post.
Available for a short period of time or while supplies last.
Good luck. I hope you will be able to find it.
Don't hesitate to share your thoughts and tips regarding Facebook freebies with the community and me in the comments below.
Consider following me on Instagram to be the first to know whenever a freebie is available.
Make sure you are logged in your Facebook account because the form is on the post and only works for Facebook users.
Be the first to get the latest freebies in your inbox