Last Updated on June 24, 2020
Circle K and Mac's Convenience Stores are treating Western Canadians with some pretty amazing coupons. You could get several FREE Snacks and food freebies TODAY while the supplies last.
What can you get for FREE from Circle K and Mac's Convenience Stores?
This opportunity consists of 9 coupons you can claim to get the following items for free, or with a pretty decent price:
FREE Bubly Sparkling Water (Single 473ml can)
FREE Medium Froster or Swirl
FREE Medium Coffee
FREE Real Hot Dog
BOGO Joker Energy Drink
BOGO Favourites Candy
BOGO Real Hot Dog
BOGO Wedge Sandwich
Super Loaded Sub for $3.99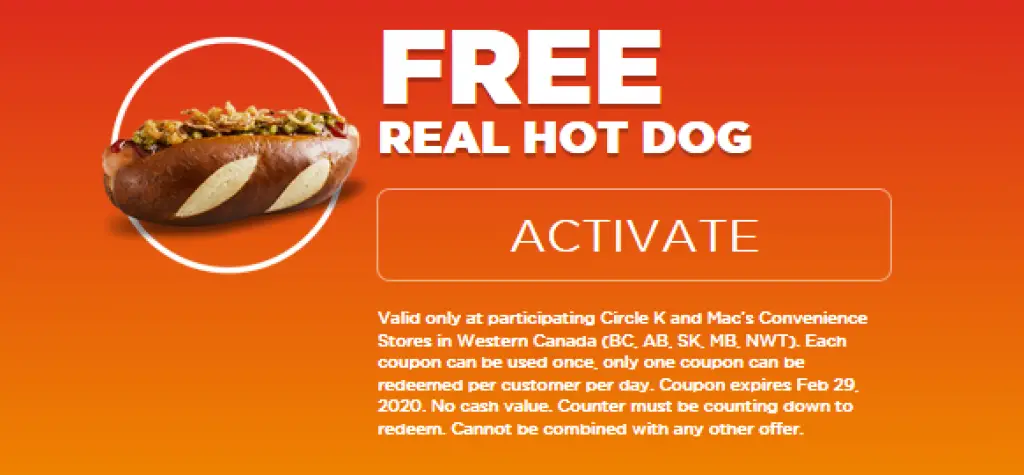 How to get free stuff at Circle K?
In order to claim and activate your FREE Real Hot Dog coupon at participating Circle K, we invite you to follow this very simple step-by-step guide we have prepared for you:
Please note that you can only claim your coupons while on Mobile with internet access.
To get started, click on the "Get this free sample" button below to get redirected to the coupons page. Choose the coupon you would like to activate and click on the "Activate" button. Once you do that, you will be asked to provide your valid phone number. Then, you shall receive a text code and a coupon to get your in-store freebie at participating stores.
Please note that these coupons are limited in quantity, so, the sooner you get yours, the better it is.
They also expire by February 29th, 2020.
Who can get free stuff at Circle K?
These coupons are only valid in Canada, at participating Circle K and Mac's Convenience Stores in Western Canada (British Columbia, Alberta, Saskatchewan, Manitoba, and Northwest Territories)
After claiming your coupons, we invite you to share this offer on your social media to let your friends and family know about it.
If you enjoy our content, please consider subscribing to our newsletter. This way, you will never miss a coupon, free sample or hot deal in Canada.
You could also allow us to send you relevant notifications on your laptop or Mobile phone whenever an offer is published. To do so, click on "Allow" when asked if you want us to send you notifications.
Be the first to get the latest freebies in your inbox