Last Updated on August 22, 2022
Free Shiseido Skincare samples with anyone? Be as quick as thunder to snag free samples of Shiseido products while the supplies last.
All the offers below are for residents of Canada only. The top ones are the most recent ones. Keep an eye out for this article as I will be updating it whenever a new sample offer is available.
NEW! Shiseido Essential Energy – AVAILABLE
New sampling campaign for Shiseido Essential Energy Hydrating Cream and Ultimune Power Infusing Concentrate with TopBox Circle Canada. To get your sample, CLICK Here and fill out the form.
If it says sold out, keep trying or wait for an update with a working link since it goes on and off quite a lot.
Please be patient. As you know TopBox links can be tricky. IF the link doesn't work, you can follow me on Instagram through this link or subscribe to push notifications. This way, I can reach you the second this offer is available again.
Free samples of Shiseido Ultimune Skin Booster – EXPIRED
Be quick to snag a free Shiseido Ultimate sample and try the newly reformulated skin booster. To get one, try using this direct link here. Fill out the form, answer a couple questions and you're all set up.
Available for a limited time only so hurry up.
Shiseido Defend & Regenerate samples – EXPIRED
TopBox Circle is giving away free Shiseido Defend & Regenerate samples. By applying for this new freebie, you will receive in the mail a free sample box with these Shiseido Defend & Regenerate skincare samples :
Ultimune Power Infusing Concentrate
Essential Energy Hydrating Moisturizing Cream
White Lucent Brightening Brightening Gel Cream
Benefiance Wrinkle Smoothing Wrinkle Smoothing Cream
Vital Perfection Lifting & Firming Uplifting and Firming Cream
To get a Shiseido Defend & Regenerate samples gratis, you can follow thist link right here to Shiseido Sampling offer on TopBox Circle. If not working
Try to go to my Instagram account and click on the link on the bio
Click on Follow Link to the TopBox website. Answer a few questions about your skin type and age and submit. Next, you should see the form to indicate your shipping address and personal info so they can send you your free Shiseido Skincare samples in the mail.
If still nothing, ping me or leave a comment and I'll try to find the current link.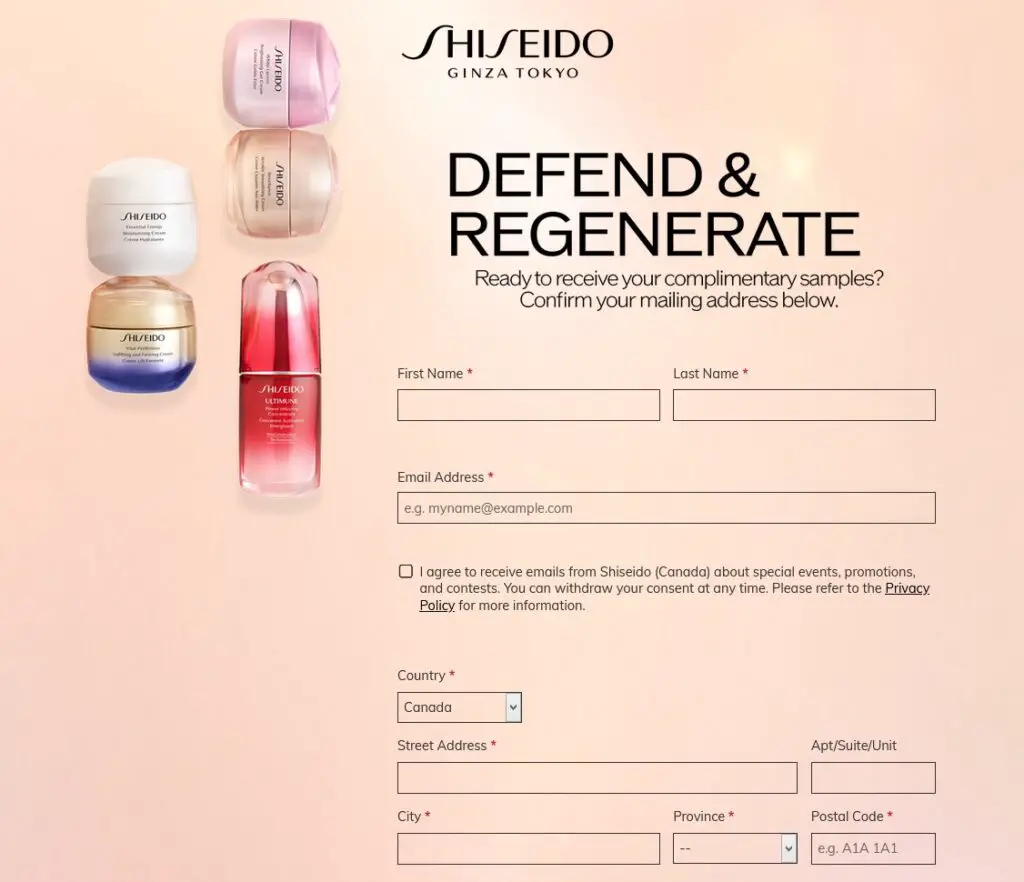 This won't last for long, so speed is in order here.
The offer is valid for a limited time only or while supplies last.
Available for residents of Canada only, all 13 provinces and territories included.
Please note that you should be patient. The form goes on and off. Make sure you allow push notifications so I can ping you whenever I got a working link for this freebie and so many more.
Be the first to get the latest freebies in your inbox