Last Updated on November 25, 2019
Are you or your kids allergic to peanuts or you just don't like them much? Does your kids' school have a peanut allergy policy that partially restricts or completely bans peanut and / or tree nut products? If this is the case, then this brand new free sampling opportunity will definitely peak your interest.
WowButter is an alternative to peanut butter. It tastes a lot like peanut butter, but it is 100% peanut-free and tree nut-free rich and creamy butter. You can use it to substitute peanut butter in all your favorite sandwiches and snacks.
Luckily for you, you could come today without wasting a second more to give it a try for absolutely nothing. So, what are you waiting for?
What do you get when you request this free samples of Safe-for-School WowButter Creamy Peanut Free Toasted Soy Spread
By requesting these awesome food samples offered to you today by the WowButter team, you will receive a package in your mailbox that contains:
Two 0.50oz (14g) single serve of WowButter Creamy Peanut Free Toasted Soy Spread samples.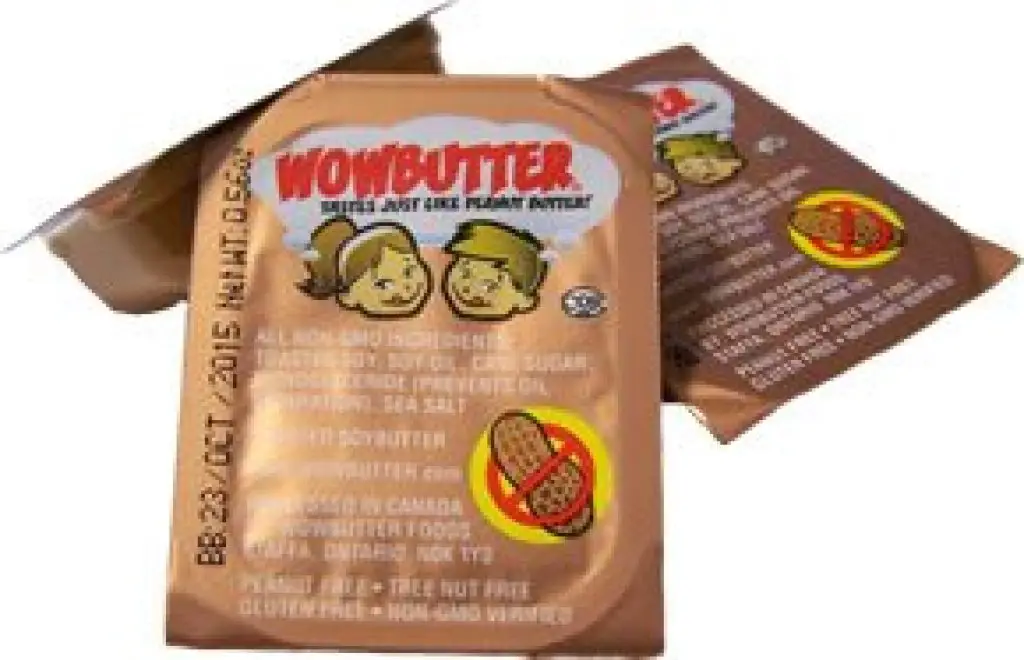 How to get FREE samples of Safe-for-School WowButter Creamy Peanut Free Toasted Soy Spread?
You can follow our instructions listed below to seize this amazing sampling opportunity available to residents of the United States and Canada :
Go to the sampling opportunity dedicated page. To do so, we invite you to click on the "Get this free sample" button located down below this offer. Once you click on it, you will automatically be redirected to the WowButter Website.
Call the indicated number to reach the WowButter automated phone number (at 1-866-296-6081) to get a free promo code to get this freebie.
Indicate the number in the appropriate case for it.
Complete the provided request form by providing your valid shipping address and complete personal details
Answer 4 questions focused about the product (how did you hear of it, do you or any of kids have peanuts or nut tree allergies, what aspect of WowButter peanut-free spread interests you the most and finally, a question about any restrictions or bans of peanuts or tree nut in your kids' school.
The last step is to indicate the number you see on the picture below the online entry form
That's it. So, don't wait any longer and go request your free samples today. The quantities are limited.
Who can get FREE samples of Safe-for-School WowButter Creamy Peanut Free Toasted Soy Spread?
This free food sample is only available for: residents of the United States of America or Canadian citizens.
There is a limit to one free sample request of Safe-for-School WowButter per household. So, there's no need to apply several times.
So, you can enter today to get your FREE samples of Safe-for-School WowButter if you are eligible for it.
Please note that you must allow 6-8 weeks for this free food samples to be delivered to your mailbox.
This free sampling opportunity has a limited daily supply. In other words, it has a limited amount of promo codes people can use to request free samples. So, when the promo code has reached it's maximum uses for the day, you must redo the process the next day. The earliest, the better.
Don't forget to share this awesome offer with whom it may interest.
Thank you, and happy freebies hunting.
Be the first to get the latest freebies in your inbox