Last Updated on October 13, 2023
Heads up to all the Chocolate lovers looking for a delicious and sustainably made treat. You can sign up to try a free Ritter Sport Sustainably Made Chocolate Bar with a voucher from Social Nature.
Ritter Sport Canada's Sustainably Made Chocolate Bars are made with high-quality ingredients and a commitment to sustainability. They come in a variety of delicious flavors, including:
Milk Chocolate with Whole Hazelnuts,
Dark Chocolate with Whole Hazelnuts,
Dark Chocolate with Whole Almonds,
Milk Chocolate with Cornflakes,
Dark Chocolate with Marzipan,
Milk Chocolate with Butter Biscuit & Cocoa Creme,
And with sustainably sourced cocoa beans and environmentally friendly packaging, you can feel good about indulging in this delicious treat.
Here is how to apply for a free bar of Sustainably Made Ritter Sport Chocolate.
How to apply for a free Ritter Sport Chocolate Bar with Social Nature?
To get your free voucher for a Ritter Sport Canada sustainably made chocolate bar, simply follow the steps as explained below:
Click on the button below to go to the offer page on Social Nature
Then click on the 'APPLY TO TRY' button
Answer a few questions (Check the answers that worked for me below)
If you qualify for it, you will receive a voucher in the mail
Here are the answers I choose and I got a match. I hope this helps.
A couple of times a month
Cadbury, Lindt, Merci, Toblerone, Ferraro, Terry's, Hershey
Seen in the store but haven't tried it
High quality, Taste, Flavor, Texture
Whole nut, Dark Chocolate, Vegan range
Each voucher is good for :
1 FREE bar of Ritter Sport Canada Sustainably Made Chocolate, 100g.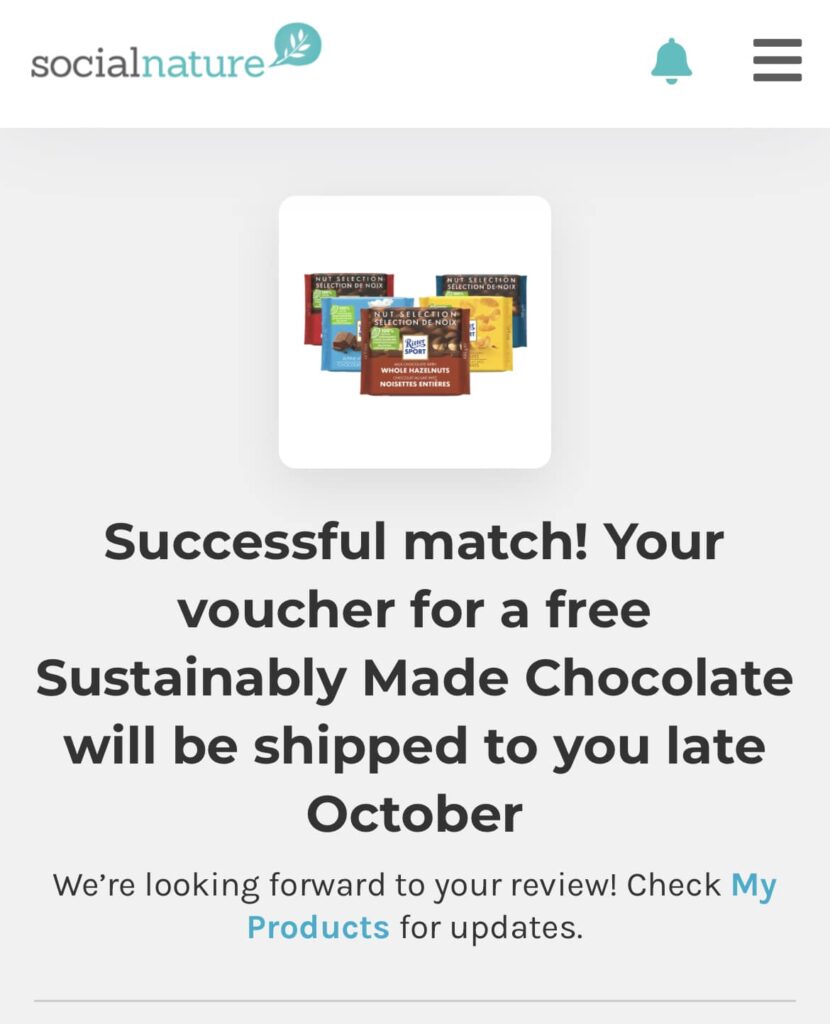 This offer is available for a limited time only or while quantities remain.
Open to residents of Canada who are members of Social Nature.
If you are not a member yet, you can join in the fun today. It's free and easy to join.
Good luck to everyone.
Don't forget that Social Nature will need a thorough review of the products you try. So you can still qualify for other products in the future.
Be the first to get the latest freebies in your inbox