Last Updated on May 11, 2023
Smoking HOT freebie! Grab a free Nars Lipstick while supplies last. NARS Cosmetics is giving away free samples of their Lipsticks gratis.
How to get a free sample of NARS Lipstick?
NEW! From Instagram – AVAILABLE
Available again as of April 6th, 2023
There is a new sponsored post from Narsissit account on Instagram. The advert is currently doing the rounds and showing up to select residents of Canada. Once you spot it, you will be able to claim a free sample of NARS Powermatte Lipstick. Here are a few tips and tricks to help you find the post.
Once done, keep your eyes peeled on the sponsored posts showing up in your feed. Here is a snapshot of what the one with the lipstick sample looks like.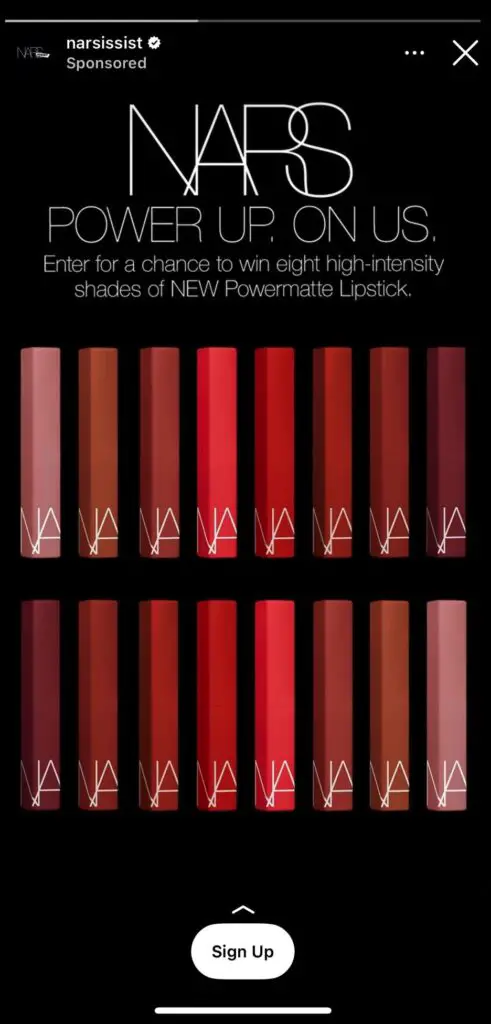 Once you find it, click on the 'SIGN UP' button to access the request form.
This offer is available for a limited time or while supplies last. Currently showing up on Instagram to select users living in Canada.
PLEASE NOTE That this advert is only on Instagram, and not available on Facebook at the moment.
Stay tuned for a possible direct link to the form. Good luck.
From their website – SOLD OUT
To get your mitts on a NARS Lipstick Complimentary sample, I invite you to follow this link to the sampling offer on their website.
Take a Quiz to figure out which Lipstick matches your personality. Once thru with the Quiz you can see the request form. Complete the form with your details and send it away to receive your sample in the mail.
This freebie is valid for Canadian residents only.
Available for a short period of time or while supplies last so be quick to get one shipped to your home address within Canada.
Stay tuned for more freebies and free samples to receive by mail in Canada!
Be the first to get the latest freebies in your inbox