Last Updated on May 9, 2021
Surprise freebie with Sample Source Alert! Select VIP members will receive in the mail, a free L'Atelier Chocolate Bar with SampleSource.
Thousands of Nestle L'Atelier Chocolate Bar are being shipped all over Canada.
To see if you can expect this surprise freebie in the mail, you can check your inbox and see if you matched with the sample. I didn't personally receive this, but here's a snapshot of the email you must look for to be sure :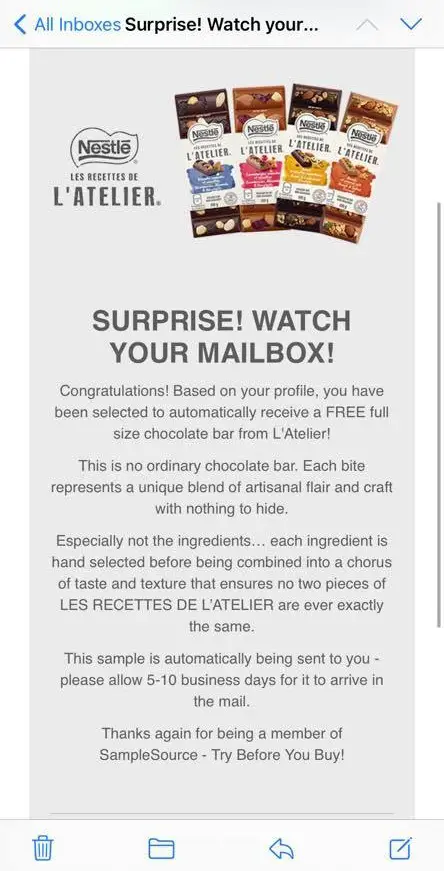 If you get this email from the sampling platform, you can expect to get your Free LAtelier Chocolate bar in the mail within 5 to 10 Business days.
How to receive freebies in the mail with SampleSource Canada?
Unfortunately, there's nothing you can do to snag this freebie if you are not already a member of Sample Source. However, what you can do, is sign up to avoid missing out on future offers. It's simple and easy. Follow this link to the SampleSource Platform. Hit 'BECOME A MEMBER' and voila.
I'm keeping tab of all SampleSource Surprise freebies in the mail and picture of what I got. You check them out here if you'd like.
Be the first to get the latest freebies in your inbox