Last Updated on July 28, 2022
Here are all the ways possible to get free Kraft Hazelnut Spread Jar samples in Canada. Multiple ways are available, you can score a jar with free samples, coupons, or product testing opportunities.
Article updated whenever a new freebie is available. Stay in the loop by subscribing to our push notifications.
NEW! Kraft Crunchy Hazelnut Spread with Cocoa from Shopper Army – AVAILABLE
There is a new mission on Shopper army. Log in to your account and check your dashboard to apply for a chance to receive free Kraft Crunchy Hazelnut Spread with Cocoa to test and review.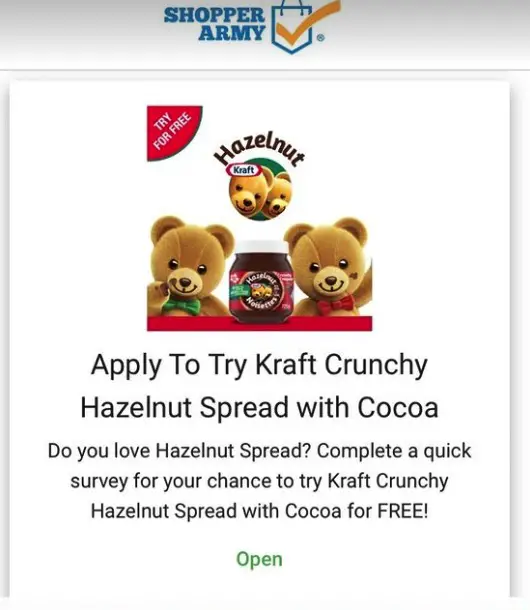 Click here to log in or create a Shopper Army Acount.
Available for a limited time or while supplies last.
Canadian residents only. Good luck.
Free samples of Kraft Hazelnut Spread with ChickAdvisor – SOLD OUT!
On June 17th, a new Kraft Hazelnut Spread freebie is available for Canadians. ChickAdvisor has a new product review club offer.
Want to get a possible free Kraft Hazelnut Spread samples, to receive in the mail? Be quick to apply while the application period is open.
Available while supplies last. Limit of one per household.
Click here to apply for a free sample of Kraft Heinz Hazelnut Spread
Update: this is still available as of June 23.
Open for Canadian residents only.
Free Kraft Hazelnut Jar with B2GO coupon at No Frills – (Out of stock)
Whether you missed the Kraft personalized Hazelnut Jar freebie or not, you can still claim this new coupon with Save.ca to get a 375g free Jar at No Frills locations.
Claim a coupon to get a Kraft Hazelnut Spread gratis. Valid when you purchase two participating Maxwell House Pods at No frills stores across Canada.
Participating Maxwell House products include Maxwell House Pods 12ct, Nabob Pods 12ct, or Maxwell House/Nabob Tassimo 12ct-16ct.
Save.ca will mail you this coupon to your home address.

Click Here to claim your coupon while supplies last
This coupon will expire on 31th March 2021.

You can additionally claim this other available Canadian Coupon from No Frills to save $3.00 off when you buy two (2) Maxwell House Pods 12ct, Nabob Pods 12ct or Maxwell House/ Nabob Tassimo 12-16ct.
Click here to claim the coupon and get it sent to you by mail
There are only 5000 coupons available to be claimed.
Expires on March 31, 2021.
Both coupons are valid at No Frills stores only.
Personalized Kraft Hazelnut Jar (expired!)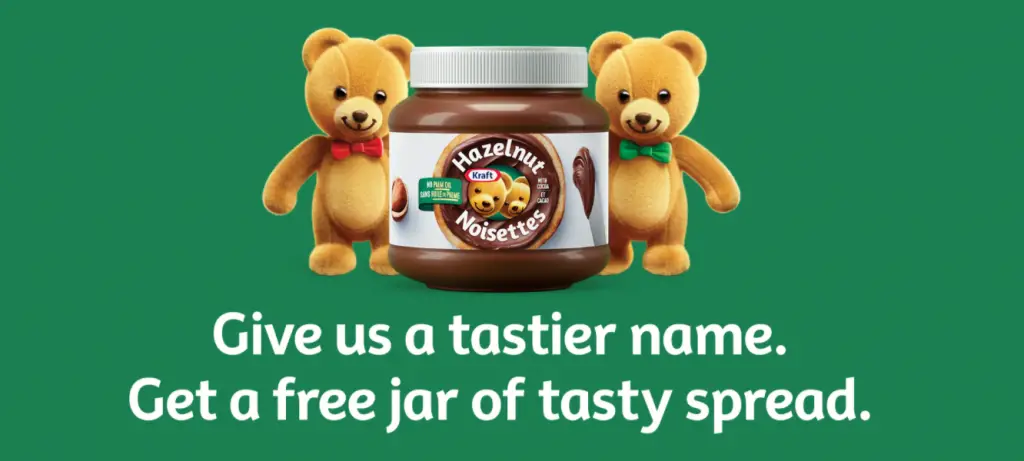 Be quick to claim your free Jar of Kraft Spread with Kraft CA. There's a new sample form you can complete right now to get your free Kraft sample in the mail.
Click here to claim a FREE Kraft Hazelnut Spread Jar (out of stock for now, but stay tuned they have more jars coming soon as announced by them!)
Click next and take a quick Kraft Survey. It's going to take you one minute top. Once done, the form will show up. Pop up your shipping details in there and send away for a free 1L Kraft Hazelnut Spread to get by mail.
Bonus, it's personalized so the jar will have written on it whatever name you chose.
[Available again as of 16th of December 2020]
The samples are for citizens of Canada ONLY.
To stay informed of the latest free samples in Canada, we suggest you subscribe to our push notifications.
Happy freebies hunting!
Be the first to get the latest freebies in your inbox