Last Updated on January 15, 2021
Until the 13th of January 2021 you can grab a free Cavendish Fries at Food Basics locations in Canada.
Food Basics has new sales and promotions on its weekly flyer. One of the interesting sales this week is the Cavendish Farms French Fries 700g Crinkle Cut for 99¢ only.
There's also a printable coupon available thru SmartSource portal to get $1.00 off any one (1) Cavendish Farms Product 454g-750g. You can use this coupon to get free Cavendish Fries this week at Food Basics locations.
You can print up to 2 coupons per browser.
If you have any trouble getting this at Food Basics or would like to get it elsewhere, you can price match at other stores.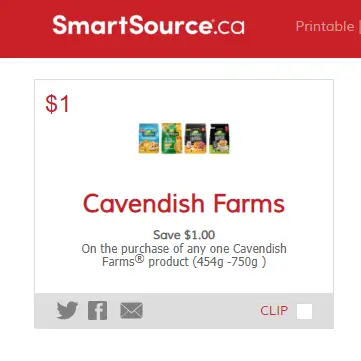 Click here to get your printable Cavendish Fries Coupon from SmartSource portal
Please note that this deal is based on the price of Cavendish Farms French Fries 700g Crinkle Cut at Food Basics Ontario (as seen on the weekly flyer). If you do not live in Ontario, I suggest you verify the availability and the exact price of this product at your local Food Basics.
Click here to view this week's Food Basics Flyer
The sale is valid until January 13, 2021. Thus this deal should be claimed before then because the prices may change.
Be the first to get the latest freebies in your inbox