Last Updated on October 28, 2021
Gentlemen, here is a hot new skincare freebie for you. Snag a possible Free Bulldog Skincare Moisturizer sample in Canada. While the quantities last, select Sampler users can match with the Original Moisturizer sample for men by Bulldog.
The product is for men who suffer from dry skin issues. Everyone does in winter so hasten to snag one to test for free.
How to get a free Bulldog Skincare for men sample ?
NEW! With Topbox Circle – AVAILABLE
Topbox Circle is now offering free samples of Bulldog Skincare For Men Original Moisturizer. You can claim one while supplies last by following this link to the offer page. Complete the form to get your freebie in the mail.
Available for a short period of time or while supplies last.
Limit one per household. Open to residents of Canada
More Topbox Circle samples available here.
Thru Sampler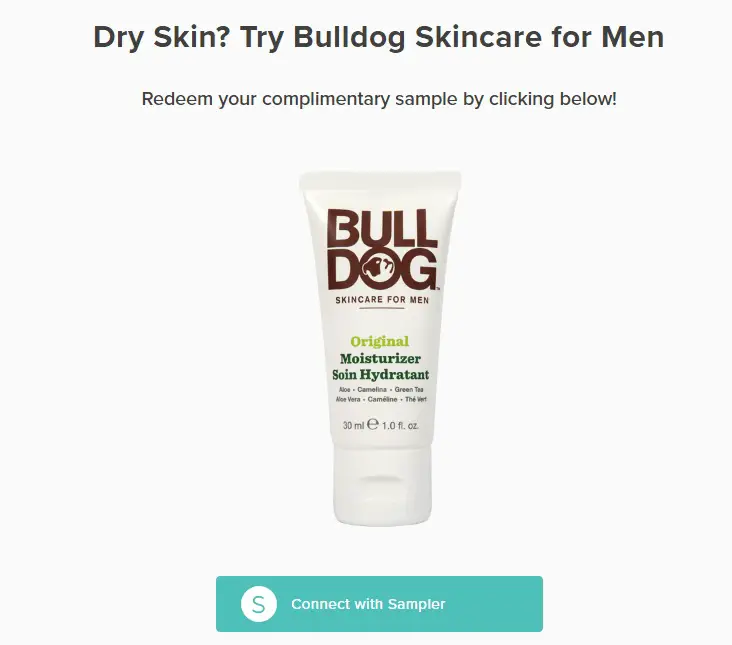 To get a possible free sample and see if you qualify for it, we invite you to follow this link to the Sampler x Bulldog sampling page. Click 'Connect With Sampler" to log in with your account and see if you qualify for this freebie. If you do qualify, you can just go ahead and order it to be shipped to your doorsteps gratis.
Please note that it might take some time to show up in the samples you can order so be patient. On the other hand, if you don't have a Sampler account yet, we recommend you create one to start receiving tons of freebies and samples every month. It's all 100% free.
Need help setting up a Sampler account? Read our detailed article on how to get started with Sampler here.
This freebie from Sampler.io is open to select residents of Canada only. Probably men and also ladies who already mentioned that they are married or something.
Obviously, this offer is valid for a limited time only or while quantities last.
Let us know in the comments section below if you were able to get it or not! We would appreciate any feedback from you guys!
Happy freebies hunting!
Be the first to get the latest freebies in your inbox