Last Updated on March 4, 2023
Craving something sweet and delicious? Don't miss out on this new offer to get a free Aero Truffle Chocolate Bar in Canada. Read on below to find out where and how to get this freebie.
How to get a possible free Aero Truffle Chocolate Bar?
NEW! Bubbles from Bubbles Free Product Coupon – AVAILABLE
March 1st, 2023 – Hurry up to get an Aero Truffle Chocolate Bar free product coupon from Nestlé. Join the Bubbles for Bubbles campaign to receive your coupon in the mail. It consists of trading your stressful typing bubbles for a free Delicious Bubbly Aero Bar. To participate, follow this link to the Bubbles for Bubbles campaign page, and follow the instructions.

Each coupon is valid for one free bubbly AERO Truffle bar at participating retailers in Canada.
Valid for a limited time or while supplies last.
From Sample Source
Select VIP Members received an email from Sample Source to claim a free sample of Nestlé Aero Truffle Chocolate Bar.
Be quick to check your email to see if you qualified for this freebie. If that's the case, you need to claim it following the link in the mail you received. Quantities are limited, and the first to claim will be the first to receive it.
Here is a snapshot of the email you should be looking out for.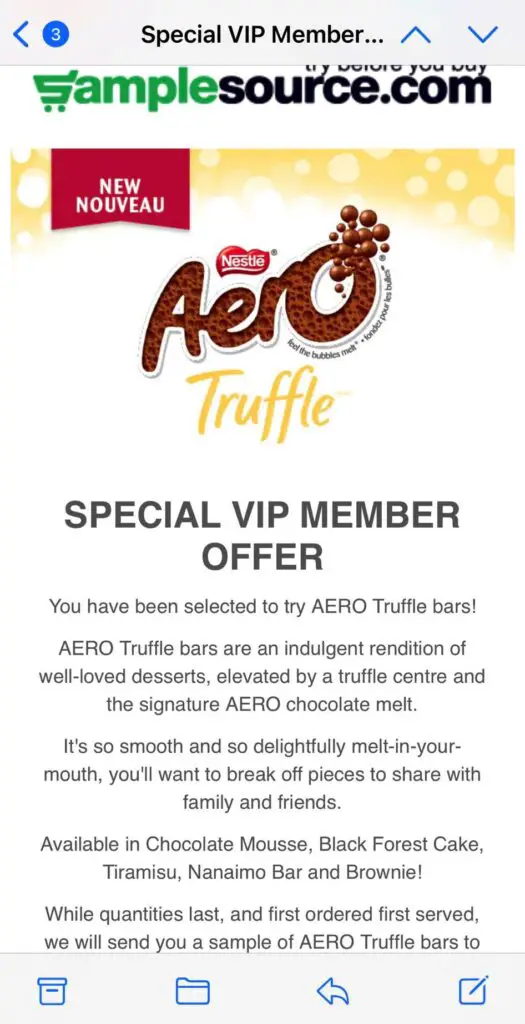 Allow 5 to 15 business days for delivery of your sample by mail.
If you don't have a Sample Source account yet, we suggest you get started and register now to start receiving great samples in the mail.
Sample Source is available to all legal residents of Canada, all provinces and territories included.
Aero Truffle Chocolate bar is bubbly, and rich, with a smooth milk chocolate truffle center. It's the perfect snack to indulge your sweet tooth.
Be the first to get the latest freebies in your inbox