Last Updated on May 27, 2021
Get free Dove Hair Therapy samples without paying a cent. And a couple of coupons in there as well to save up on your next purchase if you like the product.
The new collection by Dove is sulfate-free and is made with ingredients that are good for your hair and scalp. It comes in 3 varieties.
Dove Hair Therapy freebies & coupons from Unilever Canada
NEW! Dove Canada has shared a new small survey that you can do, and receive free Dove Hair Therapy haircare products samples in the mail. Along with a coupon to spare a dollar or two on your next buy.
To order a free sample of Dove new Shampoo & Conditioner,
For the French version, follow this link to Dove's page on Facebook. Click 'LEARN MORE' to go to form. It's in French but you can use your browser auto-translate option if you'd like.
English version is here. The answers you need to choose to get a sample are :
Straight,
Repair Damage/Breakage,
Shampoo & Conditioner only
Answer 3 questions as explained above. Once you're done, you'll see the form to fill in for a sample. If you choose any other answers, you will be offered a $2 coupon instead.
IMPORTANT UPDATE
There's only one variety of the product left to sample. All answers combinations to the three questions will get you a coupon. But if you want a sample, answer as shown below. The first answer to each question. Did you manage to get it? let me know if this worked for you.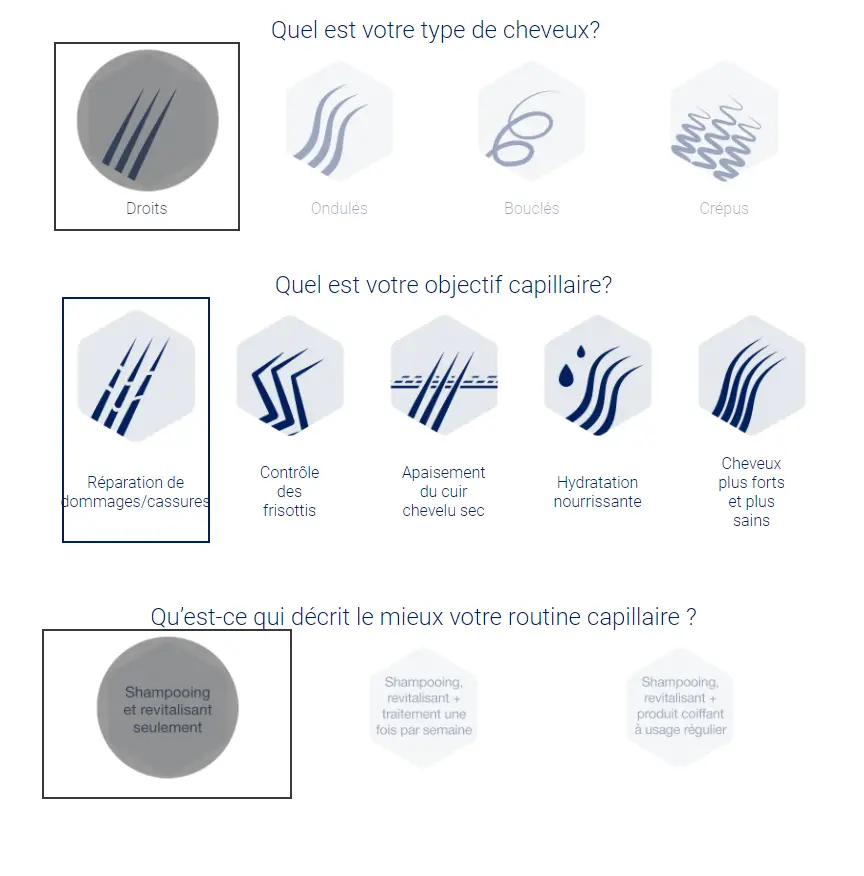 Dove Hair Therapy Shampoo & Conditioner samples with Sample Source Canada
Sample Source Canada sent a new surprise freebie to select Canadian members. It's free Dove Hair Therapy freebies!
On May 10th, 2021, SampleSource CA sent emails to select members, to inform that they will be getting Free Dove Therapy Shampoo & Conditioner samples in the mail.
To see if you will be getting free Dove Hair Therapy Shampoo & Conditioner in the mail, I invite you to check your email inbox for an email from Sample Source. It was sent this morning around 8:50. It looks like the snapshot below.
Here's the email, I received this morning :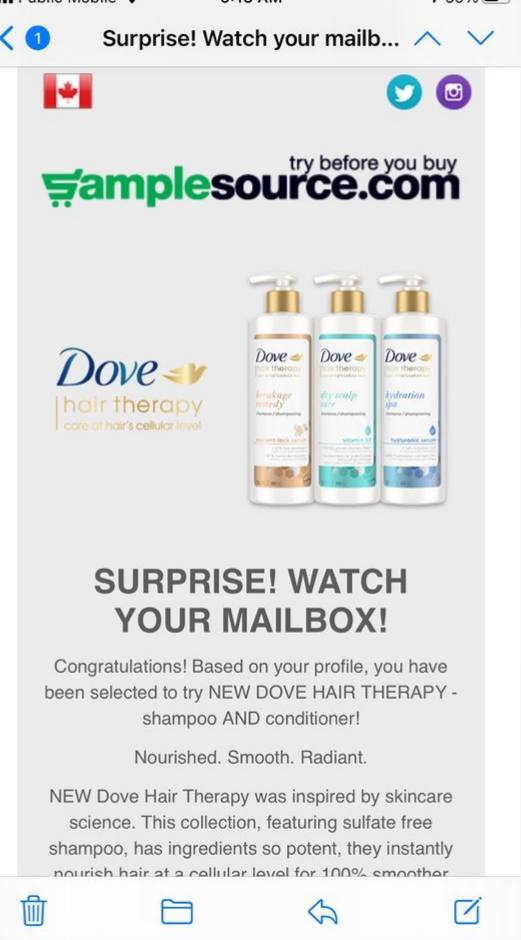 If you got this email, expect your freebies to show up in your mailbox. It should be in about 5 to 10 Business Days. If you can't find the email, even though you are a member of Sample Source, it just means that you didn't qualify for this one. You will be certainly getting others in the future.
Now, in case you are new to this Canadian sampling platform. You can sign up for free to start receiving great value offers, and freebies tailored for your needs.
This one is for Canada only.