Last Updated on August 16, 2021
Do you like tea? No matter what kind of tea you're drinking usually, this opportunity is golden. For a limited time, DAVIDsTea Canada is giving away free DAVIDs Tea sample packs.
Get your hands on 8 Tea samples of the Bestselling, most flavourful blends of DAVIDsTea. Here's how.
How to get a free DAVIDsTea sample pack?
The DAVIDs Tea sample offer is ongoing as a sponsored post showing up to select members on Facebook. There is no direct link to the offer. However, there are a few actions you can do to increase your odds of making the advert pop up in your social feed. Thus, claim your free tea sample pack with DavidsTea.
I recommend you to follow the steps below :
Go to the page of DavidsTea on Facebook and like it if you haven't done so already
Like a couple recent posts on their page or watch a recent video they shared
Go to their website and go through a couple products page in there
Now just go back to Facebook or Instagram and keep an eye out for this post to show up.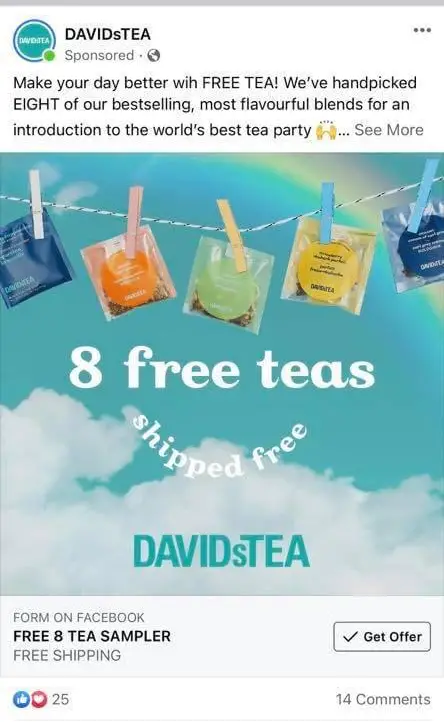 As you probably know, tea is the most consumed beverage in the world. There are many different types of tea from all over the world that come from different plant species. The tea's color and texture also vary by type, as does its distinct flavor. And we all know and love DavidsTea Tea. If you don't this is your opportunity to grab a free DAVIDsTea sample pack.
About DAVIDsTea Canada
This tea store is well-known in Canada which is a prime reason why they are different from the rest. Davids Tea offers a wide variety of organic teas that come from all over the world and can cater to any taste or preference because they offer specialty teas as well like green tea, black tea, decaffeinated tea, and more with an assortment of flavor profiles.
A key consideration for Davids Tea is that everything from their water to their packaging is environmentally friendly which means it can be recycled or composted. This protects the environment while also ensuring sustainability in business practices which sets them apart from other companies that are not recycling or using sustainable practices since they don't have the best reputation in the community.
Be the first to get the latest freebies in your inbox