Last Updated on December 30, 2021
Searching for a Circle K Game to play and win prizes? Circle K loves to treat Canadians with Games and contests every month. You can find them all here with details on how to play and increase your odds of winning great gifts. Including Rock Paper Scissors Prizes 2021.
Current Circle K Games
31 Days of Circle K – December 1st to 31, 2021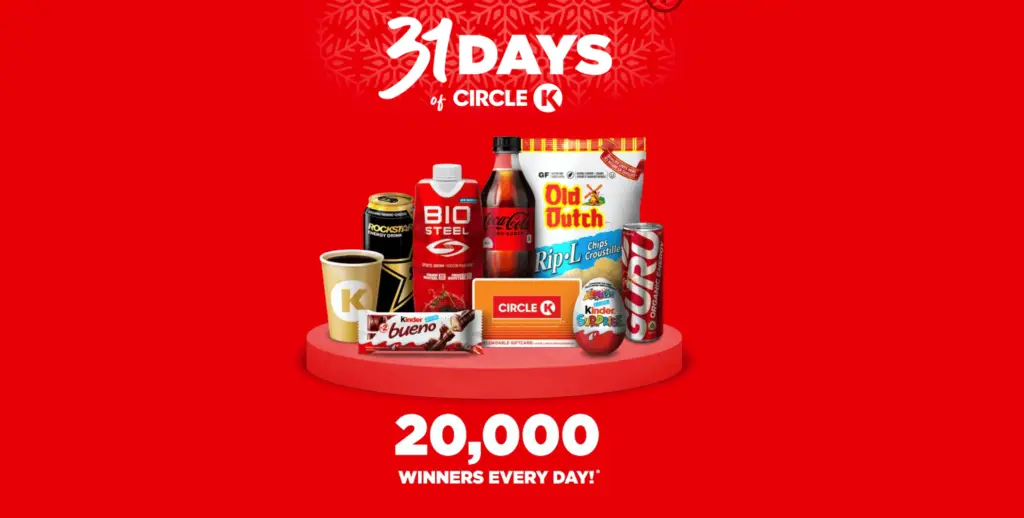 The Holidays are right around the corner. To make this month extra sheerful, Circle K is hosting the 31 Days of Circle K.
Enter everyday for a chance to be among the 20,000 daily winners to score amazing prizes and freebies.
To participate, simply go to the link at 31daysofck.circlekgames.ca and follow the instructions.
Rock Paper Prizes Summer Edition – July 20 to September 13, 2021
The fun continues starting July 20 with Rock Paper Prizes summer edition. Tons of Instant Win Prizes Circle K Coupons and freebies are available to win.
Play every day until September 13, 2021, to earn a max of prizes.
Play the Circle K Rock Paper Prizes Summer Edition game
No purchase is necessary to play the game. To enter the Rock Paper Prizes contest for a chance to win an Instant Prize, a Weekly Prize, or a Premium Prize you can visit rockpaperprizes.circlekgames.ca.
for Quebec residents, you can use this link rochepapiercadeaux.jeuxcouchetard.ca/ to go to Couche Tard Roche Papier Cadeaux 2021.
Select the province you are playing from, and enter your mobile phone number to play the game.
Reminder of the Rock Paper Scissors rules:
Rock beats scissors
Scissors beats paper
Paper beats rock
Circle K Rock Paper Prizes 2021 – May 25 to July 19, 2021
Play Circle K Game, the Rock Paper Prizes Instant-win game by Circle K Canada every day until July 19th, 2021 for tons of freebies and coupons.
Circle K Canada reinvented a classic game and topped it with thousands of daily prizes. The Rock Paper Scissors Prizes game by Circle K is an annual game. And it's coming back in 2021, starting May 25th to 19th July 2021.
Circle K Canada is giving away 25,000 instant gifts every day until the contest ends. That's a lot of gifts, and tons of chances to win.
Free Instant Win from Circle K including :
GURU Energy Drink, Coke Energy, Glaceau Vitamin Water, Circle K Nuts, Circle K Candy, Chips and Water, Joker, Froster, Coffee, Bai Antioxidant Infusion…
Discounts on Gas and free Premium Car Wash
Free Hershey snacks and chocolates including Reese's, Oh Henry! Level Up…
Free Pepsi products including Rockstar Energy Drink, Muscle Milk, Propel Water, Polar Pop Pepsi Blue…
Nestle freebies including Nestle Drumstick, Cyclone Popsicle…
Circle K BOGO coupons, Gift Cards, and much more.
The Circle K Rock Paper Prizes 2021 is only open to legal residents of British Columbia, Alberta, Saskatchewan, Manitoba, Northwest Territories, Ontario, Nova Scotia, New Brunswick, Newfoundland, and Prince Edward Island.
QC – Roche Papier Ciseaux par Couche Tard
For Quebec residents, pretty much the same game is ongoing at Couche Tard under the name Roche Papier Cadeaux 2021.
Limit of three (3) game plays or one (1) Instant Prize win per day per mobile phone number, whichever occurs first.
Circle K Contests
NEW! Circle K Canada has shared a new contest. Join in the fun with a no purchase entry, for a chance to win.
Prizes of the Circle K Contest Game include ten (10) Circle K Gift Cards. Each is worth $100 CAD.
Open to residents of BC, AB, SK, MB, NWT. It ends n June 21, 2021.
Click here to learn more and enter
Be the first to get the latest freebies in your inbox