Last Updated on June 30, 2021
Searching for Cetaphil Coupons for Canada in 2021? You can find them all here in this article. Wether you are trying to save some money on Cetaphil Baby products, or Cetaphil skincare products, this is the place for you.
Below is a list of all the available coupons that are valid for Canadians.
Available Cetaphil Coupons for Canada in 2021
Save $3 on Cetaphil Baby Products
You can get your Cetaphil Baby Coupon to save $3 when you purchase any one (1) 400mL Cetaphil Baby Product in Canada.
Click here to get your Cetaphil Baby Print Coupon with WebSaver while supplies last.
Save $2 on Cetaphil Cleanser or Moisturizer
A new Cetaphil Print Coupon is available thru WebSaver. You can snag this coupon and redeem it in-store to save $2 when you buy any one (1) Cetaphil Cleanser or Moisturizer product. Excludes: 60mL, 250mL, Bar (x1), Cloths 10ct, 85g Moisturizing Cream and Cetaphil Baby range of products).
Available while supplies last. Click here to print yours.
Join Cetaphil Parents Club to get $8 in Coupons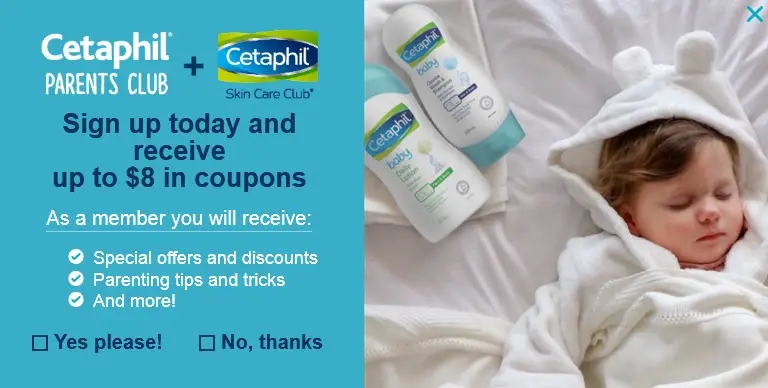 Cetaphil has online clubs you can join by providing your email address only. If you have kids and you buy Cetaphil Baby products, I highly recommend you join the Cetaphil Parents Club. One of the benefits of this club is coupons and rebates you can get. By signing up to the club, you will get $8 worth of savings with coupons.
To join the Cetaphil Parents Club and save cash on their products, I invite you to click this link and just sign up.
Join the Cetaphil Skin Care Club to get $3 in coupons
The other Cetaphil Club is for Skin care lovers. If you regularly buy Cetaphil Skincare items, this club is for you. Other than receiving tips and exclusive offers and deals, you will get a $3 Cetaphil Skin Care coupon just for joining. So let's get to it.
To join the club, I invite you to follow this link and indicate your email address.
This list will be updated regularly, so don't forget to check it out whenever you are looking for a Cetaphil Coupon.
Be the first to get the latest freebies in your inbox