Last Updated on November 21, 2022
Do you love A&W? If so, then you're in luck because with this article we provide a list of the best A&W Coupons in Canada to save money. You can use these A and W coupons on a variety of food and drink items such as burgers, fries, chicken sandwiches, or root beer floats.
Below you can find the current A&W Coupons, Deals, Specials, and Menu prices in Canada, along with the calorie count for each menu item.
Available A&W Coupons for 2022
A and W Digital Coupons
There are currently 4 Available A & W Coupons in Canada, valid until December 31, 2022. Including :
These A&W Coupons are valid until December 31, 2022, at participating restaurants across Canada.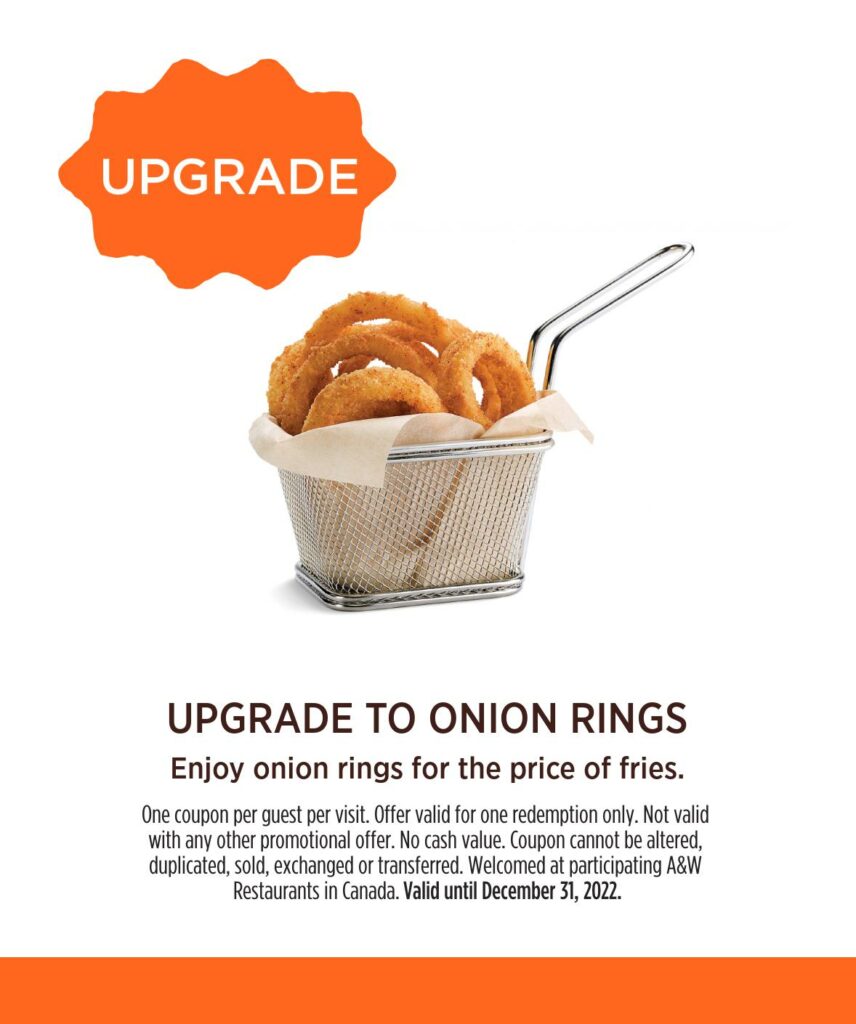 Limit of one coupon per person, per visit, or per online order. None of the coupons above can be used in addition to other promotional offers available.
How to redeem A & W Coupons?
To redeem the Digital A&W Coupons, you can proceed one of two ways.
For in-store purchases, click on the link of the coupon you want to redeem above. Choose option one to get the barcode so the cashier can scan it.
If you are ordering ahead on the A & W mobile app for pick-up or Delivery, you can click on the link of the coupon you want above, and select option 2 to get a unique promo code. Please note that if you choose this option, the promo code will be valid to use for 20 minutes only. If you miss this deadline, you will need to redo the operation to get a new one.
If you have the A&W Mobile App, you will find these deals under Digital Coupons. To use, simply load them to your account.
Click here to find an A&W Restaurant near you.
Not sure what to order at A&W? Easy. Here you can find the A and W menu and other relevant information such as A & W menu prices in Canada and calories in each item.
Please note that the prices below are regular prices, without promotions or discounts. The value may slightly vary from one province to another.
Individual items
| | | |
| --- | --- | --- |
| A&W MENU ITEM | PRICE ($CA) | CALORIES (Kcal) |
| Teen Burger® | $7.19 | 500 calories |
| Double Teen® Burger | $8.49 | 680 calories |
| Mozza Burger® | $7.19 | 600 calories |
| Double Mozza Burger® | $8.49 | 780 calories |
| Cheddar Bacon Uncle® Burger | $9.19 | 710 calories |
| Mama Burger® | $5.49 | 400 calories |
| Papa Burger® | $7.19 | 580 calories |
| Grandpa Burger® | $8.69 | 760 calories |
| Buddy Burger® | $2.19 | 310 calories |
| Double Buddy Burger® | $3.19 | 400 calories |
| Beyond Meat Burger | $6.99 | 500 calories |
| Spicy Habanero Chicken Burger | $7.29 | 520 calories |
| Chubby Chicken® Burger | $7.19 | 480 calories |
| BLT Chicken Burger | $7.99 | 490 calories |
| 3 Chicken Strips | $6.99 | 300 calories |
| 5 Chicken Strips | $9.27 | 500 calories |
| Chicken Buddy Burger | $2.69 | 360 calories |
| Double Chicken Buddy Burger | $3.59 | 480 calories |
| Chicken Wrap | $2.79 | 270 calories |
| 2 Chicken Wraps | $4.99 | 540 calories |
All Day Breakfast
| | | |
| --- | --- | --- |
| A&W MENU ITEM | PRICE ($CA) | CALORIES (Kcal) |
| English Muffin Bacon & Egger® | $4.49 | 380 calories |
| Bacon & Egger® | $4.49 | 430 calories |
| English Muffin Sausage & Egger® | $4.49 | 510 calories |
| English Muffin Cheese & Egger® | $3.29 | 340 calories |
| Cheese & Egger® | $3.29 | 380 calories |
| Breakfast Wrap® | $2.99 | 230 calories |
| English Muffin Sausage & Cheddar® | $3.29 | 440 calories |
Burger Combos
| | | |
| --- | --- | --- |
| A & W MENU ITEM | PRICE ($CA) | CALORIES (Kcal) |
| Teen Burger® Combo | $11.18 | 980 calories |
| Double Teen® Burger Combo | $12.48 | 1160 calories |
| Mozza Burger® Combo | $11.18 | 1040 calories |
| Double Mozza Burger® Combo | $12.48 | 1220 calories |
| Cheddar Bacon Uncle® Burger Combo | $13.18 | 1150 calories |
| Mama Burger® Combo | $9.48 | 880 calories |
| Papa Burger® Combo | $11.18 | 1060 calories |
| Grandpa Burger® Combo | $12.68 | 1240 calories |
| Buddy Burger® Combo | $6.18 | 750 calories |
| Double Buddy Burger® Combo | $7.18 | 840 calories |
| Beyond Meat Burger Combo | $10.98 | 940 calories |
Chicken Combos
| | | |
| --- | --- | --- |
| A&W MENU ITEM | PRICE ($CA) | CALORIES (Kcal) |
| Chubby Chicken® Burger Combo | $11.18 | 920 calories |
| Spicy Habanero Chicken Burger Combo | $11.28 | 960 calories |
| BLT Chicken Burger Combo | $11.98 | 930 calories |
| 3 Chicken Strips Combo | $10.98 | 740 calories |
| 5 Chicken Strips Combo | $13.27 | 940 calories |
| Chicken Buddy Burger® Combo | $6.68 | 800 calories |
| Double Chicken Buddy Burger® Combo | $7.58 | 900 calories |
| Chicken Wrap Combo | $6.78 | 710 calories |
| 2 Chicken Wraps Combo | $8.98 | 980 calories |
Sides
| | | |
| --- | --- | --- |
| A&W MENU ITEM | PRICE ($CA) | CALORIES (Kcal) |
| Russet Thick-Cut Fries | $3.09 | 340 calories |
| Onion Rings | $4.59 | 520 calories |
| Sweet Potato Fries | $4.29 | 360 calories |
| Poutine | $5.69 | 660 calories |
| Hashbrown | $1.99 | 180 calories |
| Hot Apple Turnover | $1.49 | 280 calories |
| Gravy | $1.50 | 100 calories |
A and W Drinks
| | | |
| --- | --- | --- |
| A and W MENU ITEM | PRICE ($CA) | CALORIES (Kcal) |
| A&W Root Beer® small | $1.89 (+40¢ for regular size) | 160 calories |
| Diet A&W Root Beer® | $1.89 (+40¢ for regular size) | 1 calorie |
| Coca-Cola | $1.89 (+40¢ for regular size) | 140 calories |
| Diet Coke | $1.89 (+40¢ for regular size) | 1 calorie |
| Sprite | $1.89 (+40¢ for regular size) | 140 calories |
| Iced Tea® | $1.89 (+40¢ for regular size) | 110 calories |
| Dasani water | $2.59 | 0 calories |
| Orange Juice | $2.29 (+$3.29 for regular size) | 140 calories |
| Apple Juice small | $2.29 (+$1 for regular size) | 180 calories |
| 2% Milk | $2.29 | 130 calories |
| 1% Chocolate Milk | $2.29 | 150 calories |
Kids Packs
| | |
| --- | --- |
| A and W MENU ITEM | PRICE ($CA) |
| Baby Burger® Kids Pack | $5.29 |
| 2 Chicken Strips Kids Pack | $6.49 |
| Chicken Buddy Burger® Kids Pack | $5.99 |
Be the first to get the latest freebies in your inbox