Last Updated on March 2, 2023
Grab a possible free Estee Lauder Serum sample in Australia while supplies last.
Advanced Night Repair is one 1 super serum with 7 superpowers. The hydrating, hyaluronic acid serum targets line reduction, firmness, and even tone. It also works toward strengthening the skin barrier, radiance, and anti-oxidant protection all in one super serum.
Estee Lauder Australia is giving away free samples of Advanced Night Repair Serum. The brand is hosting this great value freebie offer thru a sponsored advert on Facebook.
How to get a possible free sample of Estee Lauder Advanced Night Repair Serum in Australia?
Since it's a sponsored post, there is currently no direct link to the form. However, there is a bunch of actions you can do to increase your chances of seeing this post pop up on your social feed. The idea is to match the customers targeted by the brand. It's usually not complicated. You just need to show interest in this product.
The actions I recommend you to do are :
After this, just keep scrolling through your social feed and hopefully, you will see the post. Once you do, just hit 'Get Offer' to see the form.
The post looks like the snapshot below. So keep both eyes open.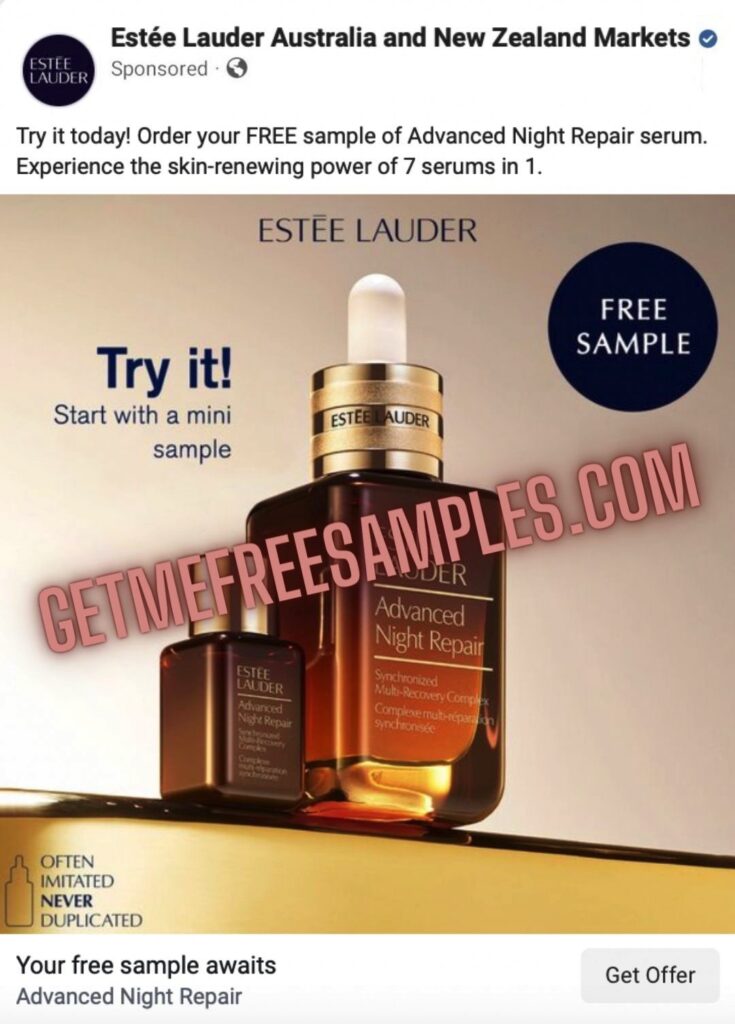 This is currently showing up to select Facebook and Instagram users (living in Australia).
Once you spot it, click on the 'GET OFFER' button to access the SoPost form you need to fill out to get this freebie.
Good luck. If you have any questions or such, you can leave me a comment below this post. Or you can send me a private message. It's always a pleasure to help the community.
sed morning and night after cleansing, the skin looks smoother and less lined, younger, more radiant, and even-toned. Order your free sample of Estee Lauder #1 face-brightening serum by following the steps above.
Be the first to get the latest freebies in your inbox